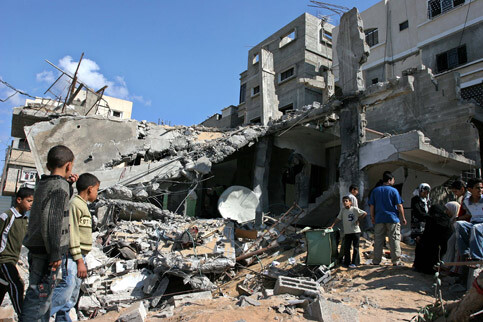 Unrelenting armed conflict, severe movement restrictions, widespread unemployment and unprecedented material hardship has made the Occupied Palestinian Territories synonymous with violations of international law, and a political solution is desperately needed, the head of the United Nations Palestinian refugee agency told the General Assembly yesterday.
"If the picture I have painted is dismal and depressing, it is because the reality is dismal and depressing," UN Relief and Works Agency for Palestine Refugees (UNRWA) Commissioner-General Karen Koning AbuZayd said when presenting her annual report. "These trends are not in the region's or the international community's interests. The need for a political solution has never been more evident or more urgent."
Living conditions in Gaza have plummeted due in part to increased violence and unrelenting armed conflict with Israel, which carried out over 292 air strikes between July and October, leaving 298 dead and 1,000 injured. New surveys showed 87 per cent of residents living below the poverty line, and severe movement restrictions have caused unprecedented levels of unemployment, with 80 per cent of residents depending on UNRWA food aid.
Land expropriations, settler violence, daily military incursions and Israel's separation barrier have caused similarly severe and deplorable hardships in the West Bank, where 56 per cent of residents live below the poverty line, the report stated.
"Especially frightening to see is the impact of the prolonged crises on every aspect of the Palestinian body politic," she said. "Law and order is deteriorating, community cohesion is unravelling and the youth are increasingly radicalized."
But Ms. Koning AbuZayd said despite those harsh realities, UNRWA sees that "the challenges are surmountable," and appealed to all parties to use the momentum of the diplomatic success of Lebanon and Israel's recent ceasefire to broker a solution.
"The conflict in Lebanon and the prevailing conditions in Gaza are grotesque monuments to the tragic futility of the resort to force," she warned. "At the same time, the ceasefire in Lebanon and the current high-level international attention focused on bringing about a breakthrough in the current political impasse between Israel and the Palestinians provide an indication of what can be achieved when international political will is mobilized effectively.
"We ask that political actors find the courage and political will to test new, or to revitalize past, policy directions," she said. "Elements of reason and willingness to compromise for the sake of a larger cause than narrow self-interest can be found on both sides. These tendencies need to be cultivated and encouraged to grow, so that we can restore the belief in the possibility of achieving peace and a better future for all, by peaceful means."
Established in 1949 to serve Palestinian refugees in Jordan, Lebanon, the Syrian Arab Republic, the West Bank and Gaza until a solution was found to the refugee issue, UNRWA encompasses education, health care, micro-finance, and emergency food and shelter programmes. UNRWA schools serve half a million primary and preparatory school children and in 2005 the agency provided food aid to 1.3 million refugees and created 2.3 million work-days through temporary jobs.