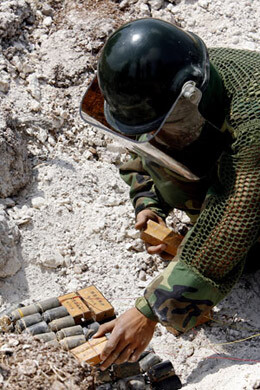 United Nations de-mining officials, already worried by up to 1 million pieces of unexploded ordnance in southern Lebanon left over from Israel's 34-day war with Hizbollah, voiced concern today that the problem could worsen as winter weather embeds the munitions deeper into the ground.
"This will make the job more dangerous since it becomes difficult to detect and clear the suspected contaminated areas," UN Interim Force in Lebanon (UNIFIL) Spokesman Alexander Ivanko said of the unexploded ordnance (UXOs) and cluster bomb units (CBUs) still remaining from this summer's conflict.
"UNIFIL de-mining teams and UXO disposal units are trying to remove as many as they can before the winter season," he added, when the soil becomes softer due to rain.
In Geneva today, UN Undersecretary-General for Humanitarian Affairs Jan Egeland said unexploded munitions have been a much bigger problem than originally foreseen, numbering in the hundreds of thousands in part due to Israel's excessive use of cluster bombs at the end of the war.
Yesterday the United Nations Children's Fund (UNICEF) warned that Lebanese schoolchildren faced "a terrible situation" from the munitions. "The number of unexploded cluster bombs ranges from 100,000 to 1 million and it remains a primary threat to children, especially as they go back to school," spokesman Michael Bociurkiw said.
Mr. Ivanko said that since the 14 August cessation of hostilities, the UNIFIL Chinese Battalion had surveyed over 140,000 square metres of areas suspected to be affected and destroyed over 3,800 UXOs and CBUs. Additional de-mining activities are being conducted by the French, Italian and Spanish battalions.
Most of the CBUs disposed are from the Al Hinniyah area. The Chinese de-miners try to interact as much as possible with the civilian population. "I believe we are doing an important and dangerous job out there," Mr. Ivanko said, adding that the CBUs present a threat not only to civilians, but also to UNIFIL and Lebanese Army troops deployed in the South.
Mr. Egeland today commended the Lebanese Government, public institutions and civil society for "a remarkably effective effort" to rebuild their country.
Related Links