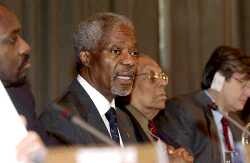 The United Nations today observed the International Day of Solidarity with the Palestinian People with a series of resolutions and speeches calling for a peaceful settlement of the Middle East conflict.
Secretary-General Kofi Annan, in remarks to the General Assembly's Committee on the Exercise of the Inalienable Rights of the Palestinian People, said recent peace initiatives by Palestinian and Israeli civil society leaders show a settlement can be reached to the conflict.
Mr. Annan said the Israeli Government and the Palestinian Authority must act now rather than wait for the other side to the make the first move. He added that there was hope that the two Prime Ministers may meet soon and a ceasefire could be established.
"These tender shoots must be nourished. At the same time, the parties must be judged not by their stated intentions but by their actions on the ground," he said.
General Assembly President Julian Hunte of St Lucia said history showed that "problems between peoples and States could not be solved by violence and conflict," adding that a two-State solution was the only way to end the conflict.
Mr. Hunte praised the work of the Quartet, and said the rest of the international community must support their efforts.
The Security Council President for December, Ambassador Stefan Tafrov of Bulgaria, said the Council was particularly concerned about the humanitarian situation in the Palestinian territories.
"Easing the restrictions that had been placed on the movement of humanitarian personnel would enable the workers to reach those in need and to improve the quality of life in the Palestinian territories," Ambassador Tafrov said.
The Chairman of the Committee on the Palestinians, Papa Louis Fall of Senegal, said the Committee - while recognizing Israel's right to security - "vigorously condemned the policy and practice of targeted assassinations."
Mr. Fall said the Committee also found it unacceptable that Yasser Arafat, Chairman of the Palestinian Authority, remained confined by Israel's army to his headquarters in the West Bank town of Ramallah.
Nasser Al-Kidwa, the Observer for Palestine, said in a statement on behalf of Mr. Arafat that the past year has been a difficult one for Palestine.
He said Israel's construction of a barrier and "the barbarism of the associated practices and repressive measures" of Israeli occupation had "further nurtured the seeds of malice and hatred."
The International Day of Solidarity with the Palestinian People is observed each year on 29 November, which fell on a Saturday this year.