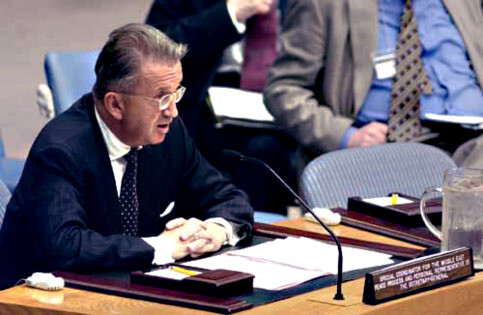 The top United Nations envoy for the Middle East, Terje Roed-Larsen, said today he is alarmed by the death and destruction caused by the ongoing Israeli military operation in the southern Gaza Strip, and called on Israel to protect the civilian population.
Reports say that among the mounting casualty count are many civilians and some children under 16, Mr. Roed-Larsen said in a statement. Israel, as the occupying power, should act under the framework of international law, most critically in the protection of the civilian population, he added.
The envoy reminded the Government of Israel "that it has the responsibility to give free access to humanitarian workers - and that if the fighting escalates, which will further endanger civilians, it must also allow for search and rescue operations."
According to the UN Relief and Works Agency for Palestine Refugees (UNRWA), many Palestinian families are leaving the Rafah camp and heading north to Khan Yunis, fleeing the fighting and fearing further demolition of homes by Israeli forces.
As many as 500 people have already taken refuge in UNRWA schools in Rafah. The Agency has pre-positioned emergency supplies such as blankets, mattresses and food at two schools in Rafah, to be used as reception centres for people fleeing or becoming homeless.
Related Links