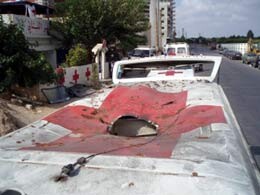 BEIRUT
- The United Nations Humanitarian Coordinator in Lebanon, David Shearer, on Monday called on the Israeli Defence Forces (
IDF
) to end its attacks on civilian infrastructure - including bridges, roads, fuel depots, power stations and hospitals - and to cease all actions hindering the supply of humanitarian relief to the hundreds of thousands of displaced people across the country.
"We deplore the continuation of Israeli bombardment of civilian infrastructure in Lebanon and call on all parties in this conflict to adhere to their obligations under international humanitarian law with regard to civilians," Shearer said.
Shearer said that the destruction of civilian infrastructure had pushed Lebanon to the brink of a humanitarian disaster and was threatening to paralyse relief efforts.
He also expressed concern with IDF missile attacks close to UN convoys on Sunday, which "could very well prevent us from continuing our humanitarian relief efforts".
Tel Aviv said the ongoing offensive against Lebanese infrastructure was intended to prevent Hezbollah from moving supplies and munitions.
Israeli air strikes on Lebanon's three major roads out of Beirut - to Tyre in the south, Tripoli and Syria in the north, and Damascus to the east - have made them impassable in many places.
In particular, air strikes on the main highway north have severely restricted access from Syria, forcing the UN to re-think how to bring humanitarian aid into Lebanon for civilians affected by the fighting.
"The highway is a vital supply link," said Daljeet Bagga, a public information officer at the United Nations in Beirut. "I think [the destruction of the highway] will greatly hamper our ability to bring in essential food supplies."
Drivers who have taken the northern highway said that, while the road is still passable, the journey was now considerably longer and more difficult. The normally two-hour trip from Beirut to the Syrian border can now take up to six hours.
"The fact that there is only one functioning border crossing [at Arida, on the northern border of Lebanon with Syria] - which is being restricted by bombing - is something we're very concerned about," said David Holdridge, emergency response coordinator with international NGO Mercy Corps.
The eastbound Beirut-Damascus highway has been rendered impassable by air strikes near the Syrian border. Lebanese government officials reported that some 600 sections of road had been damaged by bombing.
Meanwhile, air strikes on Monday destroyed a provisional bridge over the Litani river cutting off Tyre from Beirut, according to the UN Interim Force in Lebanon (UNIFIL). Roads leading out of the southern city of Tyre were also bombed on Sunday.
With road access increasingly difficult countrywide, relief agencies fear that the humanitarian situation could deteriorate further.
Nearly one million residents - one quarter of Lebanon's population - have fled southern Lebanon since hostilities began on July 12, when Israel launched a military offensive and blockade in retaliation to the abduction of two Israeli soldiers by Hezbollah militants.
Some 400,000 people are now living in temporary accommodations or shelters, with many lacking adequate food or medical care. Thousands of others remain trapped in southern Lebanese villages and towns that have been isolated for days.
With overland routes severely restricted, relief agencies in Lebanon are now considering shipping supplies in by sea from Cyprus. Although Israel has maintained a stringent sea blockade, it has allowed some aid supplies to pass.
"Our only option is by boat from Larnaka [in Cyprus]," said Holdridge. "It's not more complicated, but it takes more time." The passage takes about eight hours and shipments must first be approved by Israel.
Related Links
This item comes to you via IRIN, a UN humanitarian news and information service, but may not necessarily reflect the views of the United Nations or its agencies. All IRIN material may be reposted or reprinted free-of-charge; refer to the copyright page for conditions of use. IRIN is a project of the UN Office for the Coordination of Humanitarian Affairs.