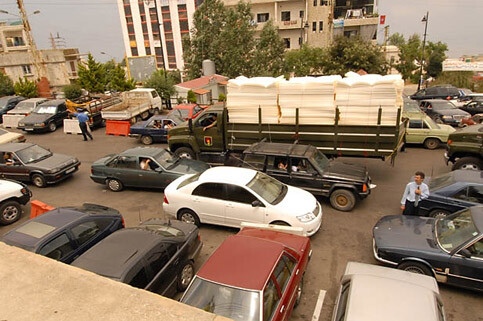 Seeking to help ease the plight of thousands of civilians who have fled fighting in Lebanon for Syria, United Nations agencies are rushing aid to the country as part of the overall effort to assist civilians caught in the crossfire of the Middle East conflict.
The United Nations Children's Fund (UNICEF) has focused its attention on the youngest victims, organizing immunization campaigns to protect them from diseases such as polio, mumps, measles, rubella and meningitis. The agency has also provided 150,000 capsules of vitamin A to be distributed to all affected children in a bid to boost their immune system.
With an eye to the reproductive health of women, the UN Population Fund (UNFPA) has provided emergency obstetric kits for pregnant women and newborns as well as safe blood transfusion kits, drugs and supplies for the prevention of sexually transmitted infections. The goods are enough to help 120,000 people for the next three months.
The Fund has also provided the Syrian Family Planning Association with a mobile clinic, a gynecologist, and an ultra sound machine, as well as other mobile health services, essential drugs, contraceptives and fuel for the mobile clinic and vehicles. So far this has reached more than 2,000 people, including 40 pregnant women and 80 women treated for reproductive tract infections.
Since the end of July, the UN World Food Programme (WFP) has distributed approximately three metric tonnes of food a day to up to 11,000 people in the Damascus area s part of its overall three-month campaign to give 50,000 people nutritious and protein-rich foods. Some 30,000 people will also receive high-energy biscuits for seven days.
A number of UN agencies have also provided personal hygiene kits to promote sanitation as well as help to ensure that women and girls have privacy and secure toilet facilities.
The UN High Commissioner for Refugees (UNHCR) has distributed 1,000 tents and more than 10,800 mattresses, 8,890 blankets, and 1,400 kitchen sets to affected civilians in Syria.
The UN Relief and Works Agency (UNRWA) is addressing the needs of more than 2,000 Palestinians from Lebanon, including over 1,600 who are being accommodated at eight UNRWA schools in Yarmouk, Damascus.
According to a statement released earlier this week by the UN Humanitarian Coordinator for Lebanon, since the conflict erupted on 12 July, about 960 Lebanese, mostly civilians, have been killed. Almost 3,400 others have been injured and more than 915,000 people - or about one quarter of Lebanon's population - have been forced to leave their homes. In Israel, 95 people have been killed, including 38 civilians, with many more injured.
Related Links