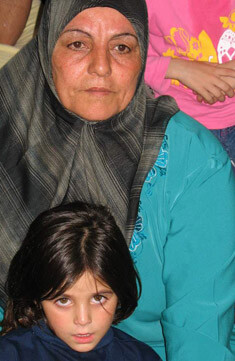 BEIRUT
— "All I want from the world now is to take me back to my hometown, Srifa, [90 kilometres south of Beirut], where my youngest son, Bilal [25], is buried under rubble. My mouth is sore from talking to the press. I don't want to see any of you, unless you take me back to hold Bilal, wash him, and bury him decently.
"My son's body, along with those of seven of my nephews, has been left for 11 days under our house, which was demolished over their heads in an Israeli raid.
"My husband and son, Ibrahim, tried to reach him when we heard the house was destroyed, but when they saw the war planes coming back, they had to flee. People were still hearing their voices from under the rubble a week ago. Bilal was still breathing. Now he's a martyr and I accept the fact that he has died. But I cannot sleep when my child is left alone in that place.
"Eleven days! I counted them hour by hour. 'Go mother,' he said, 'go away and I will follow you tomorrow, I promise.' He stayed to help evacuate the injured, now there's nobody to help him out of the rubble.
"I want nothing from the world, nothing from the UN. What good are they if they can't take me back to Srifa to hold Bilal? I want nothing from the whole nation, or from the government, not even from the Red Cross. Just show me the way, and I will go pick him up, wash him and bury him. Bilal died a hero.
"They say Srifa has 100 martyrs, from different families, all still under the demolished buildings and houses. Why can't they give us 24 hours to go and see them? The UN is a big address for an empty house and Bilal is proof of that. God have mercy on all of them.
"Our lives were torn upside down in just a few hours, the bodies of our children are lying in the streets of a ghost town, and there's no one to witness our pain or hear our voices or hear Bilal's. They told me he would be dead by now but I still hear him humming underneath the rubble."
Related Links
This item comes to you via IRIN, a UN humanitarian news and information service, but may not necessarily reflect the views of the United Nations or its agencies. All IRIN material may be reposted or reprinted free-of-charge; refer to the copyright page for conditions of use. IRIN is a project of the UN Office for the Coordination of Humanitarian Affairs.