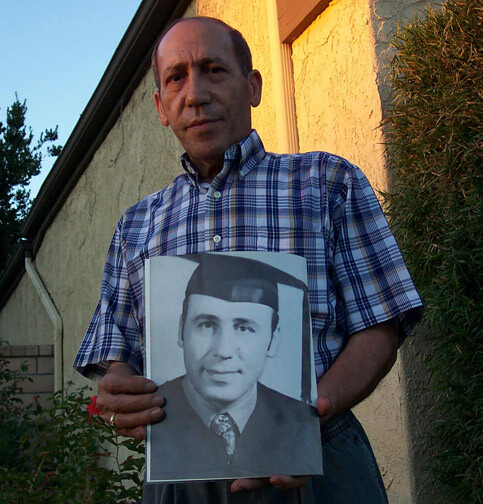 Palestinian-American activist Alex Odeh was assassinated in Santa Ana, California 21 years ago. No one was ever charged with the crime. An agreement with the Israeli government prevents the extradition and prosecution of the prime suspects.
On the morning of Oct. 11, 1985 Alex Odeh made his way to his Arab-American Anti-Discrimination Committee office in Santa Ana, California. Odeh was likely tired as he climbed to the second-story office — he had been up past midnight the night before, appearing on a late-night talk show where he condemned the killing days earlier of Leon Klinghoffer, a 69-year old Jewish New Yorker shot and dumped into the Mediterranean by Palestinian gunmen aboard the Achille Lauro cruise ship. On the show, Odeh had also repeated his oft-stated belief that peace and cooperation between Palestinians and Israelis was not only necessary, it was possible.
The group's West Coast coordinator, Alex had a busy day in front of him. He was to speak that evening at Friday prayer services at Congregation B'Nai Tzedek, a synagogue in Fountain Valley.
He wouldn't make it. Around 9 a.m. Odeh unlocked the door to the 17th Street office, triggering a powerful pipe bomb that ripped through his face and chest. (The blast also blew out office windows, injuring seven passersby on the street below.) According to his brother Sami — who still lives in Orange, California — Alex also inhaled enough hot blast chemicals to cook his lungs from the inside. Sami reached the emergency room at Tustin Community Hospital in time to meet a silent surgeon emerging from an operating room.
"His face told me everything," Sami Odeh recalls.
Sami faced up to the task — delivering the news to Alex's wife Norma and the 41-year-old's three little girls, Helena, Samya and Susan.
Each October marks another year since the day that is still recalled by Arab Americans in Orange County and by Muslims, Arabs and others around the world (the Odeh family are Palestinian Roman Catholics). More than two decades later, no one has been arrested in connection with Odeh's assassination, nobody has been charged with the crime and nobody is likely to be convicted. The FBI says the case remains open — even though government documents and newspaper reports strongly suggest that the man who orchestrated the assassination is already in federal custody.
In September 2005, one strand of the mystery was tied up when U.S. District Judge Ronald S.W. Lew sentenced Earl Krugel, a 63-year-old former dental assistant from Reseda, to 20 years in prison for conspiring to bomb the King Fahd Mosque in Culver City and assassinate Rep. Darrell E. Issa (R-Vista), a congressman of Lebanese descent. Following sentencing, defense attorney Jay Lichtman told reporters that Krugel had supplied investigators with four names in connection with the Odeh killing. The names, Krugel said, had been mentioned by the late Irv Rubin — Krugel's co-conspirator, who committed suicide last year by slashing his throat with a razor blade and leaping from a walkway inside the federal Metropolitan Detention Center in Los Angeles.
Strangely, just three days after arriving at the Federal Correctional Institution in Phoenix, Ariz. (in Nov., 2005), Krugel was murdered in an exercise yard by another prisoner.
After Krugel's death, his wife suggested his killing was related to Odeh's assassination.
"It was all about Alex Odeh and my husband did not know anything about Alex Odeh," Lola Krugel told the Associated Press.
In 1985, Rubin was chairman of the Jewish Defense League, a group of radical pro-Israelis listed as a hate group by the Southern Poverty Law Center.
Following Odeh's killing, Rubin openly gloated about the Palestinian-born American's death, telling the Los Angeles Times, "No Jew or American should shed one tear for the destruction of a P.L.O. front in Santa Ana or anywhere else in the world."
Rubin was arrested in 2002 after the FBI recorded Krugel and others plotting "a wake-up call" for Arab Americans by destroying one of their "filthy mosques," according to court records.
Before his suicide, Rubin told Krugel that four men had been involved in the Odeh killing. Investigators haven't released the names, but Sami Odeh believes they include three names previously listed by the FBI as suspects: Robert Manning, Keith Fuchs and Andy Green.
Fuchs and Green continue to reside in (relative) safely at Kiryat Araba, a Jewish settlement near Hebron in the occupied West Bank. All three were disciples of the late Rabbi Meir Kahane, the rabidly anti-Arab founder of the JDL.
The presumed mastermind of the Odeh killing, Manning fled to Israel immediately after the Santa Ana incident. He was extradited to the U.S. in 1993, where he was convicted of the 1980 killing of Patricia Wilkerson, a Manhattan Beach secretary who had the misfortune of opening a package bomb aimed at Manning's estranged business associate. (Manning's fingerprints were found on the package by investigators.)
It wasn't the first time Manning had been caught tinkering with explosives, however. In 1972, he was convicted of bombing the Hollywood home of Palestinian activist Mohammed Shaath.
With so many arrows pointing, why wasn't Manning prosecuted for Odeh's killing? In what amounts to a political compromise of Biblical proportions, Manning can't be tried for Odeh's murder because of an extradition agreement between the U.S. and Israel. The reason: the assassination occurred after he became an Israeli citizen.
Manning swallowed 20 sleeping pills on the eve of his extradition in an attempt to escape justice.
According to an internal FBI memo made public in 1987, the agency made multiple requests to Israel for cooperation in solving Odeh's murder. Israel has refused repeatedly, although the details of the behind-doors discussions have never been released. This is despite the fact that both Fuchs and Green — like Manning — have been tried and convicted of other bombings and shootings in the U.S. and the West Bank.
The contradiction is more than boggling in the post-9/11 world, where the U.S. government's vow to take action against states that harbor terrorists is repeated regularly. Writing in 2003 about the Odeh killing and several similar incidents, George Washington University law professor Jonathan Turley called the failure "a glaring double standard applied to Arab Americans and Muslims that can be neither denied nor defended."
There was no ceremony to mark the 20th anniversary of Odeh's killing by terrorists. There will be no birthday remembrance.
"He was a very intelligent, very calm but passionate young man," recalls Haitham Bundakji, former director of the Islamic Society of Orange County in Garden Grove. "He loved the U.S. as his new country, but he never forgot Palestine, which was his homeland. He believed in the Palestinian people and he worked very hard to shed some light on the other side of the coin, the other side of the issue that most Americans don't hear about."
Arabs, Muslims and others in Orange County, Calif. and elsewhere continue to feel frustrated about the apparently immovable roadblock that still sits in the path to justice.
Contacted for this article, Arab-American academic Jack Shaheen (who spoke at a memorial service for Odeh in November 1985) said the lack of resolution continues to trouble the community.
"Sadly," he said, "the tragedy of Alex's assassination shows that the life of an American civil rights advocate with Palestinian roots is not valued by our government or media as much as the lives of other Americans."
"There is the feeling that the great influence pro-Israel groups have in this country had an influence on the investigation," Bundakji said.
Surprisingly, Sami Odeh, who works as a real estate broker in Orange, Calif., is more sanguine about the case.
"We remain hopeful that eventually, justice will prevail," he said. "I happen to believe that despite the enormous power that the Israeli state wields in this country, the American justice system will continue to push.
"You have to understand that the FBI is up to their ears in cases. I know that the Israelis are making it tremendously difficult for them to do their job, but given enough time, I think they can finish it.
"And even if they aren't brought to justice here — God will mete out justice eventually. And when He does, He won't be under anyone's political influence."
Erik Skindrud is a magazine editor and journalist in Huntington Beach, California. He attended U.C. Berkeley�s Graduate School of Journalism.
Related Links
ADC

Remembers Alex Odeh,

ADC

(11 October 2005)

Tags