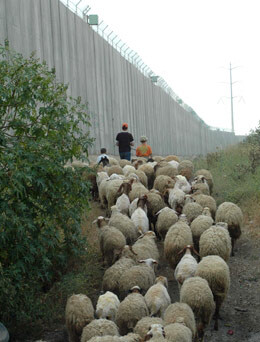 June 5th 2007 marks the 40th year of Israeli occupation of Palestinian lands. The impact of this occupation, which includes poverty, violence, social disintegration and internal conflict, continues to this day.
As part of this occupation, Israel began the construction of a 700-kilometre wall that cuts through Palestinian communities, dividing families and their lands, keeping farmers from their crops, children from their schools, the sick from urgent medical care and denying people freedom of movement. The International Court of Justice declared the wall to be illegal in 2004 and instructed Israel to dismantle it. Nevertheless construction continues.
Trócaire has launched an online campaign at www.trocaire.org/wall asking people to sign a petition urging the Israeli government to implement all the recommendations of the International Court of Justice in 2004, including the removal of the wall. When people sign the online petition a hole will appear in a virtual wall, symbolising the goal of demolishing the actual wall and replacing it with genuine negotiations over Palestinian land.
Trócaire is also asking the Irish and UK governments to ensure the implementation of the International Court of Justice's decision on the wall through an inclusive and proactive approach to building peace founded on respect for human rights.
Since September 2000 Palestinians inside the Occupied Palestinian Territories (OPT) have experienced a humanitarian crisis, blamed by the UN and the World Bank on the military policies of the Israeli government. Checkpoint closures, military sieges of villages, towns and cities and restrictions on movement of both people and goods have led to this crisis. The humanitarian crisis has been compounded by the decision of the USA and EU to impose an economic boycott on the government of the Palestinian National Authority.
Trócaire works with a number of Israeli and Palestinian partners in Israel and the OPT on issues of human rights. We provide emergency relief (food, water, medical assistance) in the OPT through our partners and work towards meeting people's basic needs. Trocaire is also calling for adherence to international law and for opening access to the Gaza Strip.
Trócaire believes peace will be achieved through an end to the Israeli occupation of Palestinian lands; the exercise of the right to self-determination by Palestinians (including refugees) and Israelis and a comprehensive and just settlement based on the full implementation of international law.
Related Links