After finishing a shift with the Palestine Red Crescent Society yesterday morning, we went to the United Nations-administered al-Fakhoura school in Jabaliya, which was bombed by Israeli forces, killing at least 40 displaced people who were taking shelter there. When we arrived, prayers were happening in the street in front of the school. I'd seen prayers in open, outdoor places in Palestine and Egypt. But these days, when I see a mass of people praying, in front of al-Shifa hospital, in the streets of Jabaliya, I think of the mosques that have been bombed, and of the loss of lives and sanctuaries. And yesterday I thought of the loss of another safe haven.

The grief was very evident, as was the indignation: "Where are we supposed to stay," one man demanded. "How many deaths is enough? How many?" It's the question that has resounded in my mind since the attacks on 27 December.

Across Fakhoura street from the school, about 15 meters down a drive, a gaping hole in the Deeb family house revealed what had been happening when it was hit by a shell. Rounds of bread dough lay where they'd been rolled out to bake. Amal Deeb was in her 30s, a surviving family member told us. When the missile struck, it killed her and nine others in the extended family's house, including two boys and three girls. Another four were injured, one having both legs amputated.

Approaching the house, the stench of blood was still strong, and was visible in patches and pools amid the rubble of the room. Later, in Jabaliya's Kamal Adwan hospital, 19-year-old Ahlam lay conscious but unsmiling, unresponsive. The woman at her side explained her injuries: shrapnel lacerations all over her body, and deeper shrapnel injuries in her stomach. Ahlam didn't know nine of her family members were killed.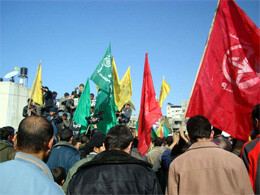 Returning to the street in front of the Fakoura school, mourners had gathered, ready to march, to carry the dead and their pieces to their overcrowded resting place. Flags of all colors mixed in this funeral march: no one party dominated, it was collective grief under collective punishment.

So many people had joined the procession through the narrow streets that the funeral split, taking different streets, to reach the cemetery. At the entrance to the cemetery, decorated cement slabs mark the older graves, laid at a time when cement and space were available. The most recently buried bodies, instead, show in sandy humps, buried just low enough to be covered but not properly so. Cement blocks mark some graves, leaves and vines on others. And some were just barely visible, by the raise in earth. But it was too packed, too hard to estimate where a grave might be, no possibility of a respectfully-spaced arrangement.

"Watch where you step," Mahmoud, a friend, told me, pointing to a barely-noticeable grave of a child.

The enormity of the deaths hit me. After 12 days of killing and psychological warfare, I'd become less shocked at the sight of pieces of bodies, a little numb, like a doctor might, or a person subjected to this time and again. I was and I remain horrified at the ongoing slaughter, at the images of children's bodies being pulled from the rubble astonished it could continue — but adapted to the fact that there would be bodies, maimed, lives ruined. I stood among sandy makeshift graves, watching men digging with their hands, others carrying corpses on any plank long enough — corrugated tin, scraps of wood, stretchers — to be hastily buried. As the drones still flew overhead and tank shelling could be heard 100s of meters beyond, it all become too much again. I wept for all the dead and the wounded psyches of a people who know their blood flows freely and will continue to do so.
Hatem, the other day, told me to be strong as Palestinians, for Palestinians. And I try, though each day brings assassinations no one could have imagined. Out of touch with all the other fragmented areas of Gaza, I read of the Samuni family and see photos of a baby girl pulled from the rubble of a house shelled by an Israeli warplane. Mohamed, a photojournalist, has photographed many of those killed in Israel's bombings of houses. And today Hatem crumbled, though he is strong. It's all too much.

Nidal, a Palestine Red Crescent Society medic, told how he was at the Fakhoura school when it was shelled. His aunt and uncle live nearby and he'd been visiting friends at the school. "I was there, talking with friends, only a little away from where two of the missiles hit. The people standing between me and the missiles were like a shield. They were shredded. About 20 of them," he said.

Like many Palestinians I've met, Nidal has a prior history of loss, even before this latest phenomenal assault on civilians. Only 20 years old, Nidal has already had his father and brother killed, martyred it is said here, by sniper's bullets. His right hand testifies his part in the story: "Three years ago, the Israeli army had invaded our region [Jabaliya]. One soldier threw a sound bomb at us and I picked it up to throw away. It went off in my hand before I could throw it away." Sound bombs are used against nonviolent demonstrations against Israel's wall in the occupied West Bank villages of Bilin and Nilin, and many youths learn at a young age how to chuck them away. But Nidal's stubs of fingers show that he wasn't so lucky. However, he is luckier than his father and brother. And luckier than two of his cousins, his aunt's sons, who were in the area where missiles were dropped at the UN school. They, 12 and 27 years old, were killed.

Osama gave his testimony as a medic at the scene after the multiple missile shelling. "When we arrived, I saw dead bodies everywhere. More than 30. Dead children, grandparents … Pieces of flesh all over. And blood. It was very crowded, and difficult to carry out the injured and martyred. There were also dead animals among the humans. I helped carry 15 dead. I had to change my clothes three times. These people thought they were safe in the UN school, but the Israeli army killed them, in cold blood," he said.

Mohammed K., a volunteer with the Palestine Red Crescent Society, was elsewhere when the UN safe haven was shelled. "We were in Jabaliya, at the UN 'G' school, to interview the displaced people taking shelter there. We wanted to find out how many people were staying there, where they'd left from and why exactly, and how safe they felt in the school. While we were there, we heard the explosions, saw the smoke, and wondered what had been hit. It was Fakhoura."

All images copyright Eva Bartlett.

Eva Bartlett is a Canadian human rights advocate and freelancer who spent eight months in 2007 living in West Bank communities and four months in Cairo and at the Rafah crossing. She is currently based in the Gaza Strip after having arrived with the 3rd Free Gaza Movement boat in November. She has been working with the International Solidarity Movement in Gaza, accompanying ambulances while witnessing and documenting the ongoing Israeli air strikes and ground invasion of the Gaza Strip.

Related Links