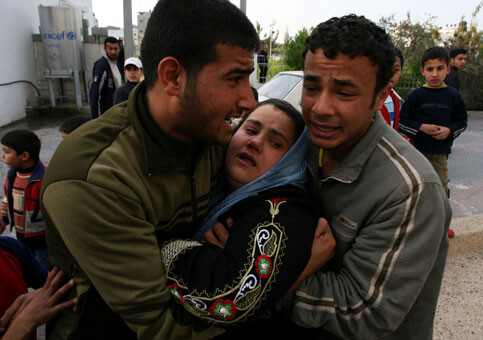 The Palestinian Centre for Human Rights (
PCHR
) strongly condemns the Israeli war crime perpetrated in the evening of Saturday, 23 February 2008, east of the town of Beit Hanoun in the northern Gaza Strip. Three Palestinian civilians were killed by an Israeli rocket fired as they were on a picnic in the Nazaz area east of the town.
The Centre's preliminary investigation indicates that at approximately 3:40pm on Saturday, Israeli Occupation Forces (IOF) fired a surface-to-surface missile from one of its bases along the Gaza Strip border. The rocket targeted three friends in a bamboo hut in a field belonging to the family of one of the victims in the Nazaz area east of Beit Hanoun. The targeted area was approximately 1.2 kilometers away from the border with Israel. The rocket landed in the middle of the three civilians who were preparing food during their picnic in the field. They were instantly killed and dismembered. Their remains were taken to the Beit Hanoun Hospital. They were identified as:
Mohammad Talal al-Za'anin (20), university student from Beit Hanoun
Ibrahim Ahmad Abu Jarad (20), driver from Beit Hanoun
Mohammad Hasan Hussein (22), an employee from Jabalia
After the incident, an IOF spokesperson was quoted on the Yediot Ahronot website claiming that the army targeted armed Palestinian rocket launchers. However, the Centre's investigation refutes the claim, and affirms that they were civilians on a picnic in an open field. They were roasting meat and waiting for other friends to join them for dinner. The bombardment occurred before the others arrived.
PCHR reiterates its condemnation of this crime, and:
1. Affirms that this crime is part of a continuous series of Israeli war crimes in the Occupied Palestinian Territory, reflecting IOF disregard for civilian life.
2. Calls upon the High Contracting Parties (HCP) of the Fourth Geneva Convention (1949) to fulfill their legal obligation under Article 1 of the Convention and ensure that it is respected by all parties under any circumstances. The Centre calls upon the HCP to fulfill their obligations under Article 146 of the Convention to pursue persons suspected of perpetrating grave violations of the Convention, which are defined as war crimes under Article 147 of the Convention.
Related Links