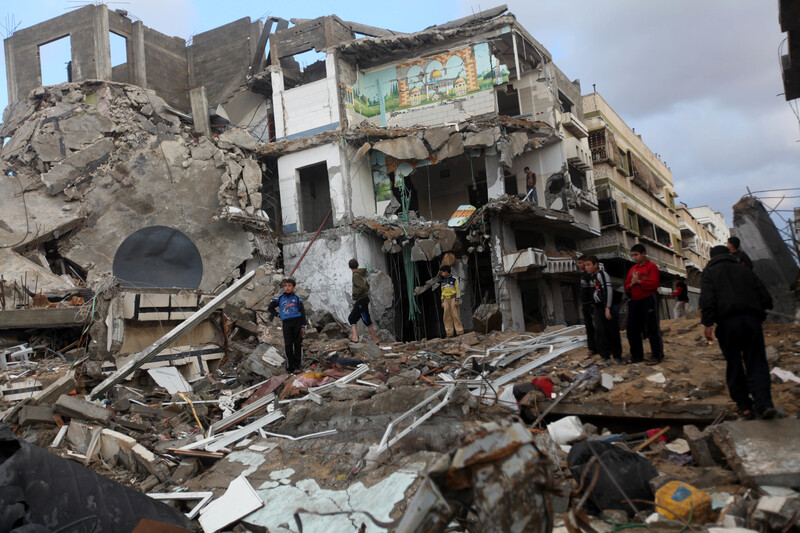 GAZA CITY (IPS) - On 17 November, four days into Israel's eight-day assault on the Gaza Strip, deputy Israeli Prime Minister Eli Yishai publicly called for the Israeli army to "blow Gaza back to the Middle Ages, destroying all the infrastructure including roads and water."
The following day, Gilad Sharon, son of former Israeli premier Ariel Sharon, called for Israel to "flatten entire neighborhoods in Gaza. Flatten all of Gaza. There should be no electricity in Gaza, no gasoline or moving vehicles, nothing," adding, "there is no middle path here – either the Gazans and their infrastructure are made to pay the price, or we reoccupy the entire Gaza Strip" ("A decisive conclusion is necessary," The Jerusalem Post, 18 November 2012).
Now, nearly a month after the Israel-Hamas ceasefire, the government and international bodies in Gaza are still assessing the total damage caused by Israeli bombings on infrastructure throughout the Strip.
Preliminary estimates put direct damage at $250 million, with another $700 million in indirect damages, according to Hamas government spokesperson Taher al-Nunu ("Leveling Gaza: Israeli airstrikes to cost Gaza over $1.2 billion," Russia Today, 25 November 2012).
In more tangible terms, the vast destruction has affected bridges, thousands of homes, hundreds of UN shelters, tens of mosques, many government buildings, media offices, financial institutions, hospitals and health centers, two stadiums, a training center for disabled athletes, water and sewage and electricity networks, more than 100 schools, Gaza's "life-line" tunnels, and innumerable roads.
During the Israeli bombings, Al Jazeera reported that 400,000 were without electricity after five different transformers were hit.
After the ceasefire, the extent of damage on the electrical network became clearer.
In addition to the five known damaged transformers, another 32 throughout the Strip were destroyed or damaged by Israeli bombings, according to the Gaza Electricity Distribution Corporation (GEDCo).
"We reconnected most of the damaged lines during the attacks. But we need to correct those temporary repairs because they were not done according to technical standards," said Usama Dabbour, from GEDCo's external relations department.
"Too dangerous"
"There are still approximately 5,000 people without power throughout the border regions. We cannot reconnect them because it is still too dangerous to go there, despite the ceasefire," he said.
The damage has also been inflicted on electrical wires, poles, GEDCo vehicles and a company warehouse.
This is not the first time the Israeli army has targeted Gaza's electricity network.
"Every time the Israelis declare war on Gaza, they damage the electricity network," said Dabbour.
According to the United Nations Development Program (UNDP), the 2008-2009 Israeli bombings of Gaza inflicted $10.4 million in damages to the electricity network ("One Year After Report," May 2010 [PDF]).
Since the 2006 bombing of Gaza's sole power plant, the entire Strip has been subjected to scheduled and unscheduled daily power outages, sometimes lasting longer than eighteen hours at a stretch.
Reservoirs targeted
The Strip's water and sanitation networks were also hit by Israeli bombs.
Ibrahim al-Aleja, communications officer at Gaza's Coastal Municipalities Water Utility, notes that damage to water and sanitation networks extends throughout the Strip.
Some of the most severe damage, from Beit Hanoun to Rafah, includes underground piping blasted apart by Israeli bombings of civilian streets, homes and in open areas. Reservoirs were targeted. "They destroyed a reservoir in Khozaa, east of Khan Younis. It was no threat to the Israelis," says al-Aleja.
Two waste water wells in the same village were also hit by bombs.
In Khan Younis, Israeli attacks damaged a storage facility holding 350,000 liters of water, as well as a major line in the Amal neighborhood of Khan Younis, said al-Aleja.
Parts of Nusseirat and Mughraqa, two towns in central Gaza, are still without water.
"When the Israelis bombed a bridge between the two areas, they destroyed a water pipe underneath it. There are still 20,000 people without water in that area," he says.
Bassam Abu Dahrouj, 14, climbed down the steep slope of the severed bridge. Israel's bombing of this bridge on 21 November marked the fourth time this bridge has been destroyed, the teenager said ("Weekly report on Israeli human rights violations in the occupied Palestinian territory," Palestinian Centre for Human Rights, 22 November 2012).
"Over half of the families in Mughraqa use this bridge, and children use it to get to school," said Abu Dahrouj. "Now, they have to use a long detour. Some, however, don't bother with the detour. As he spoke, two children climbed up the cement wall of the valley that the bridge crossed.
"In winter, the Israelis open their dams and flood the valley. It gets very high and no one can cross the valley at that time," he said.
Further west, the coastal road bridge linking central Gaza to the north is likewise severed. Tangles of concrete and metal rods, building materials hard to come by in a Gaza that remains under Israeli siege, lie in heaps, some of the metal being pounded out for resale in construction use.
On the south side of the demolished bridge, a line of shared taxis ventured onto the muddy valley floor, opting for a bumpy but shorter detour than that of Gaza's north-south Salah el-Din street many kilometers east. A temporary fix, it will be unusable during the winter months when heavy rains flood the valley.
Early estimates indicate that $20 million dollars was caused in agricultural damage, 136 schools and kindergartens were damaged or destroyed, and 450 houses destroyed or severely damaged, leaving 3,000 persons still displaced, according to the UN's Office for the Coordination of Humanitarian Affairs ("Escalation of hostilities Gaza and Southern Israel," 5 December 2012 [PDF].)
As well as urging the annihilation of Gaza this year, Eli Yishai called for Palestinian civilians to be hurt around the time of Operation Cast Lead, Israel's all-out attack on the Strip in late 2008 and early 2009. "Even if they fire at an open area or into the sea, we must damage their infrastructures and destroy 100 houses," he said then ("I lost everything," Human Rights Watch, 13 May 2010).
Yishai's remarks amounted to an appeal for violations of international law. The Hague Regulations and the Geneva Conventions prohibit "the unnecessary destruction of the enemy's property," and the "extensive destruction and appropriation of property, not justified by military necessity and carried out unlawfully and wantonly."
All rights reserved, IPS - Inter Press Service (2012). Total or partial publication, retransmission or sale forbidden.
Tags