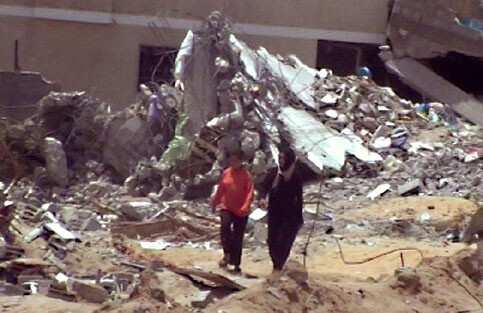 The Geneva-based human rights organisation the Centre on Housing Rights and Evictions (
COHRE
) condemns the lifting of a temporary injunction banning the demolition of Palestinian homes in Gaza by the Israeli Supreme Court.
"The decision of the Court to lift the injunction yesterday paves the way for further illegal demolitions to be carried out by the Israeli military. These demolitions constitute a war crime under the Geneva Conventions of 1949. This decision clearly shows Israel's total disregard for international human rights and humanitarian law. If the highest Israeli judicial body sanctions such crimes, it is clear that Palestinians have no recourse to any form of justice," said Scott Leckie, the Executive Director of COHRE.
The injunction banning the demolitions was issued on Friday 14 May, when a Palestinian group filed a petition to the Supreme Court following the Israeli military's demolition of 80 buildings in Rafah, which left more than 1000 Palestinians homeless.
Two days later the Supreme Court lifted the temporary injunction, paving the way for further human rights violations to be carried out against the occupied Palestinian population.
The demolitions in Rafah were carried out last week by the Israeli authorities with no prior warning to residents, and came after 13 Israeli soldiers were killed in ambushes in Gaza.
"The Israeli government's brutal policies, including the continued practice of house demolitions, arbitrary theft of Palestinian lands and the imposition of apartheid-like planning laws, are testimony to its preparedness to disregard the most basic human rights of the Palestinians. We call upon the Israeli government to immediately halt all demolitions of Palestinian homes and fulfil its international legal obligations as a matter of the utmost urgency," added Leckie.
More Information
Mr Scott Leckie (

COHRE

Executive Director), Email: scott@cohre.org, Web: www.cohre.org.

Related Links