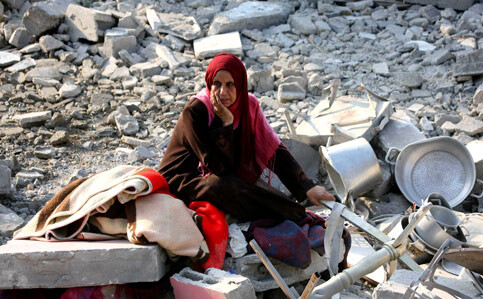 As a result of the Zionist aggression against Palestine, the plight of the Palestinian people is accumulative and ongoing. Now, in the 59th year of our forced displacement, we are threatened with new forced displacement due to the construction of the Apartheid Wall and policies of siege and starvation intended to break the Palestinian people, and to end our demands and struggle for our rights under international law and, in particular, under
UN
Resolution 194.
Almost six decades of daily plight of the Palestinian refugees are an expression of the crimes and acts of humiliation perpetrated by the dominant powers by backing Israel's aggression and crimes; they reflect a lack of human compassion and disrespect of the standards of human rights and the United Nations applicable to the Palestinian people who are exposed to occupation and population transfer. UNRWA policy is guided by the objective to reduce its obligations to the Palestinian refugees and to escape from the responsibilities it was originally charged to perform.
Israel's policy of aggression and permanent pressure against the Palestinian refugees in their camps, which are living witnesses of the historical injustice and the deprivation of fundamental human rights, is intended to push our Palestinian people into political projects which do not meet the basic standards of international law and resolutions, and into accepting a "preliminary state without borders", without sovereignty and without Jerusalem, while illegal Jewish colonies are debated as a possible trade off for the right of the Palestinian refugees to return to their homes.
As we commemorate the ethnic cleansing of our people from its land, we are aware of the scope of the dangers which confront our most important cause, the cause of the Palestinian refugees in the homeland and in the exile.
We therefore affirm:
1. Our absolute rejection of, and our determination to combat, all "initiatives", whether Palestinian, Arab or international, which do not clearly guarantee the right of Palestinian refugees to return to their homes and their right to restitution of their property in accordance with UN Resolution 194;
2. The need to break the humiliating sanctions imposed on the Palestinian people, first of all by re-instating the commitment of Arab states to their obligations towards the Palestinian people and to abstain from engagement in initiatives and deals promoted by the United States;
3. Our absolute rejection of the suggestions advanced by the U.S. Foreign Secretary, because they negate the national rights of the Palestinian people under international law, in particular the right of Palestinian refugees to return to their homes.
4. Our demand to UNRWA to reaffirm the commitment to its obligation to provide services which guarantee an adequate standard of living for Palestinian refugees;
5. The need to reactivate the PLO Department for Refugee Affairs, and to develop its capacity to play an effective role in the protection of our people in the homeland and the exile;
6. The need for urgent intervention by the League of Arab States and the United Nations for the protection of Palestinians in Iraq, in order to prevent further massacres committed with the collusion of the Iraqi government and the silence of neighboring countries under the auspices of the United States.
Those who deny the right of return home are not from among us!
Related Links