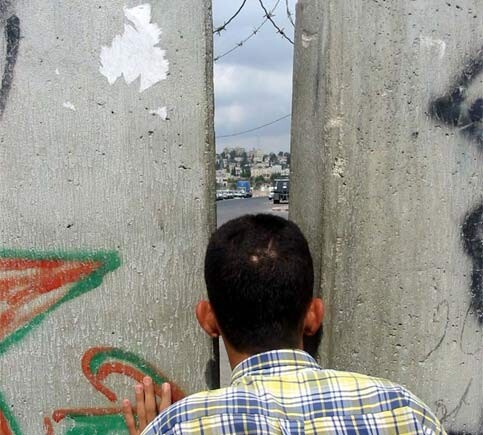 The day declared by the Anti-Apartheid Wall Campaign in Palestine is gathering major momentum as cities across Europe, Canada, the
US
, Latin America, and Australia are joining in solidarity with the popular Palestinian mobilization that is to take place on November 9, the date of the fall of the Berlin Wall.
The International Day Against the Wall is expected to be noticeable and large scale and to be a spark that further strengthens the Palestinian call to stop the Wall and the momentum in Palestine and abroad.
In Palestine, demonstrations will take place in the Qalqiliya, Tulkarem, Jenin, Salfit, Jerusalem, Ramallah, and Bethlehem districts in a call to stop and tear down the Wall. A protest and information tent will also be set up for the entire week of the 9th where publications, maps, a photo documentary exhibition, and cultural activities and lectures will take place.
Participating in the Anti-Apartheid Wall Campaign's call will be affected communities, local councils, civil society organizations, political parties, youth groups, schools and universities, and the population at large.
International actions will take place across Europe, Canada, the US, Chile and Brazil. Many groups are building a mock Apartheid Wall which will be symbolically torn down at the end of demonstrations, speaking events and vigils. In Europe demonstrations and information dissemination will take place in Italy, Spain, the Netherlands, Brittan, France, and Norway. As of yet, over 30 demonstrations worldwide are known to be taking place.
The Anti-Apartheid Wall Campaign is the grassroots Campaign coordinated by the Palestinian Environmental NGOs Network (PENGON). The Campaign is a unified Palestinian effort of numerous NGOs and community grassroots organizations to stop the Wall. The Campaign began in October 2002 and is considered the only Palestinian national Campaign against the Wall.
To see a list of the worldwide activities, visit stopthewall.org/worldwideactivism/62.shtml
For more on activities in Palestine, contact Jamal Juma', PENGON/Anti-Apartheid Wall Campaign Coordinator, at +972-52-285610, or Amira Silmi, Anti-Apartheid Wall Campaign at +972-67-465350.
For more on the international activities, contact Robyn Long, Anti-Apartheid Wall Campaign, at +972-67-581642.
For more on the Wall and the Campaign, visit www.stopthewall.org