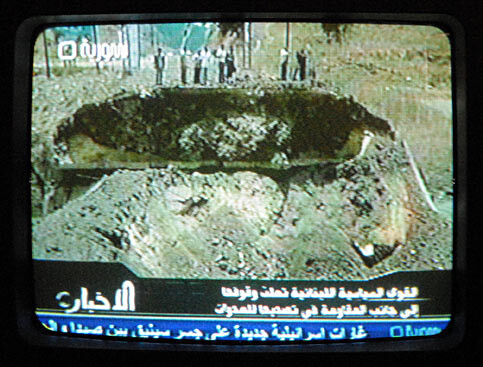 DAMASCUS
- The government has facilitated the entry into Syria of thousands of Arab and foreign tourists who, for the last four days, have been fleeing Israeli aggression in Lebanon.
This has led some to hope that Syria's attitude could help in mending the frosty relations between the Lebanese and the Syrian governments. Lebanese parliamentarian George Jabbour said that Syria's assistance "would contribute in getting the two countries' relations to normal." He added that Syria "feels now that it is its duty to support Lebanon at this delicate time."
Lebanese and other travelers who crossed the Syrian border on Sunday praised the Syrian authorities for their assistance. "Measures at the Syrian borders were extremely smooth in a way I couldn't expect," said an Iraqi man, who did not want to give his name.
Matt Disatosk from Canada said his entry to Syria was "easy and the officials at the border were cooperative and gave us all possible facilities to us despite the severe jam."
"The situation is worse than what you're seeing on television," said Nour Hisham, a Kuwaiti who had been vacationing with her family in Lebanon. "Bodies can be seen on the streets. Lebanon is shaking with every shell dropped on it by Israel. I'm glad I was able to leave safely."
Ahmed Omran, a visitor from Bahrain, said he had considerable difficulties exiting the country in the midst of the crisis. "We had to leave through Syria, the only possible exit from Lebanon, because Israel has enforced a naval and air blockade on the country," he said. "The situation is dangerous."
Beirut airport was closed after Israeli warplanes bombarded its three runways on 12 July, forcing planes to be diverted to Damascus or Larnaka in Cyprus. According to statements from Tel Aviv, the attacks were a response to the kidnapping of two Israeli soldiers and the killing of eight others by Lebanese militant group Hizbullah on 12 July.*
The border crossing, meanwhile, has been gridlocked by cars ferrying Arab tourists and Lebanese citizens into Syria, while most hotels in the area are reportedly filled to capacity. A source at the Syrian customs post on the border said that up to 20,000 people had crossed the frontier on Saturday, adding that more traffic was expected.
Damascus, meanwhile, has expressed its full support for Beirut in the face of mounting Israeli attacks and has heavily criticised the US for defending Israel. On Saturday, Syrian President Bashar al-Assad reportedly called his Lebanese counterpart Emile Lahoud to place Syria's capabilities at Lebanon's disposal.
In related news, 12 Egyptian sailors were rescued on Saturday and taken to Al-Bassel Hospital in the Syrian coastal city of Tartous after their ship, which had been sitting in international waters off the coast of Beirut, was attacked by an armed Israeli vessel, according to official Syrian news agency SANA. The sailors were reportedly rescued by Syrian and Egyptian ships in the area.
Al-Bassel Hospital Director General Talal Hamdan said the sailors had been treated and were in stable condition except for one, whose condition is reportedly serious.
* Editor's Note: The dictionary definition of the word "kidnap" necessitates that the abduction of a person is illegal. As the Israeli soldier was part of an occupying force, captured during a military raid against a military target, in international law he is considered to be a "prisoner of war", not a kidnap victim. The rules governing the treatment of prisoners of war are spelled out in the third Geneva Convention of 1949, article 13 of which requires that POWs "must at all times be treated humanely".
Related Links
This item comes to you via IRIN, a UN humanitarian news and information service, but may not necessarily reflect the views of the United Nations or its agencies. All IRIN material may be reposted or reprinted free-of-charge; refer to the copyright page for conditions of use. IRIN is a project of the UN Office for the Coordination of Humanitarian Affairs.