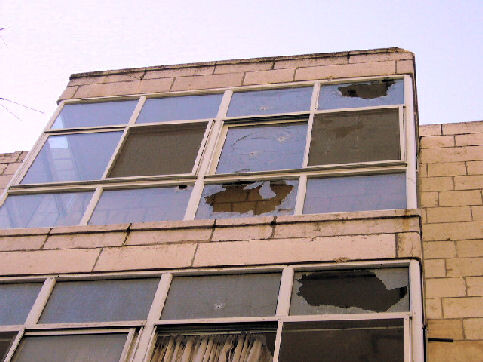 On Wednesday afternoon, 23-year-old Sama was stepping out of a taxi in Ramallah's bustling Manara Circle, when machine gun fire erupted. An undercover Israeli Defense Force (IDF) kidnapping mission, aimed at a senior Islamic Jihad figure, had run amok. Sama took cover in a side-street as the events unfolded. It started with youths hurling stones at the IDF agents — they were disguised as locals — and setting their car ablaze. Within minutes, about 11 armored IDF jeeps arrived, surrounding the Lo'Lo'A building on Manara, where the agents supposedly were. Two IDF helicopters came on the scene to provide further backup as the IDF made its violent withdrawal.
Israeli military sources insisted that only rubber bullets were used in the skirmish, but the destruction in their wake told another story. A total of four Palestinians died — Milad Abdullah 'abu El A'raays, Khaled Ja'far Yassin, 'Aysar Qasem Abu E'rra and Ghaleb Rabah Abed El Qader, all in their early twenties — along with some 57 casualties. Fawzi Salameh, a doctor and manager of El Sheikh Zayed Hospital, reported receiving 32 bullet-wound victims, one of whom had a bullet lodged in his liver. Another 25 victims were received in the city's governmental hospital, according to local sources.
It had been the second such mission in two days. The first saw the abduction of Hamas leader Ibrahim Hamed, while this operation sought Islamic Jihad's Mohammed Al Shoubaki. Covert operations against Islamic Jihad continued on Friday in Lebanon, when Mahmoud al-Majzub and his brother Nidal were mysteriously blown up in their booby-trapped car; Israel denied involvement. However, Israel's official killings continued in Gaza that same day, as tanks fired into a home in Beit Lahiya, killing two, and then into a field east of Jabaliya, killing 42-year-old farmer Omar Abu Warda.
Yet prior to last Wednesday, it was difficult for Sama to imagine Ramallah this way. Near Manara, passengers queued at taxi stations amidst shouts for Nablus, Qalqilya, Jenin; sidewalks were covered with vendors selling roasted nuts and coffee. But on Friday, the streets were still littered with stones and debris, and pedestrians were on edge.
For Sama, the present climate in Ramallah is all too reminiscent of the summer of 2002, when the IDF carried out a series of closures and raids under its "Operation Determined Path." Sama recalls a day when she was confined to her family's shoebox apartment under an IDF curfew. She was baby sitting the infant of her upstairs neighbor, whose apartment had no running water, when a Merkava tank rolled up the street and pointed its barrel at her second floor window. It "just stood there," she says, "I don't know for how long."
Sama recalls the subsequent seconds, minutes, whatever they were, as a flurry of thoughts raced through her mind. Did she want to raise her own children in Ramallah or flee her homeland? Would she feel pain when the shell tore through the living room? At least the infant was too young to comprehend this moment.
Not far from Sama's building, IDF soldiers fired tear gas into another family's apartment. This after announcing from bullhorns, "To the people of Ramallah: It is forbidden to move around. Anyone breaking curfew will be shot." In another part of Ramallah that summer, according to Israel's B'Tselem, IDF troops locked a man in his car for 30 seconds with a live tear gas canister.
Like 2002, this week's events are unlikely have more than an ephemeral shelf-life in the American press. Regional concerns will likely center on when Hamas will renounce violence and recognize Israel, a colonial state that refuses to recognize the rights, and often the existence, of Palestinians. The U.S. Congress will debate how much money to withhold from Egypt due to its lack of reform, while Israel is shoveled another $2.4 billion in aid. Israel will continue to strangle the Palestinian economy, but send weapons to Abu Mazen's (Mahmoud Abbas') cabal to secure their collaborative role in the status quo. There may even be more talk of Rafik Hariri's 2005 assassination in Beirut, should Syria "act up" again.
It remains to be seen what lies ahead for Palestinians during the summer of 2006. In the past year, Qalandia checkpoint, the primary thoroughfare between Jerusalem and the West Bank — not to mention between the West Bank's northern and southern halves — has transformed from a glorified cattle chute to a grand segregation technoplex. Palestinian access to Jerusalem has graduated from infrequent to impossible. The construction of various separation barriers has left more than 22 Palestinian communities surrounded or stranded from the West Bank; four of these communities have no access to health care whatsoever.
Improvement is hardly the word to describe things in Palestine or Israel, especially while the outside world refuses to view the situation with adult eyes.
Zachary Wales is a regular contributor to Electronic Intifada