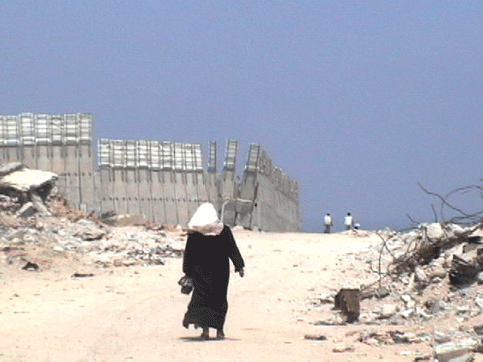 The Palestinian Centre for Human Rights has issued a report, entitled "Suffering in Isolation: A report on life under occupation in the Mawasi areas in the Gaza Strip." The report details the dire situation in the Mawasi areas in the southern Gaza Strip and includes an examination of the violations of international human rights and humanitarian law perpetrated by the Israeli belligerent occupation forces and Israeli settlers in the area from the beginning of Al Aqsa Intifada (September 2000) to the end of May 2003.
The Mawasi areas are 'Yellow Areas' as defined in the Oslo Agreement (1995) and as such, fall under Israeli security jurisdiction, while the Israeli settlements located within the same area are governed by Israeli civil law. The Mawasi areas continue be under a strict military siege and all aspects of life are greatly hindered by the extreme measures imposed by the Israeli forces controlling the area.
The Mawasi area was chosen as a prime example of the matrix of control that Israel exerts over the Occupied Palestinian Territories. The report details the impact of the Israeli settlements that are located in close proximity to Palestinian villages and towns and focuses on the impact of Israel's so-called 'security' measures on the fundamental rights of the inhabitants of the area.
The report is based on extensive research conducted by a PCHR researcher, assisted by PCHR field workers, the communities of the Khan Yunis and Rafah Mawasi areas and various international organisations. As well as specific references to violations of international human rights and humanitarian law, the report also provides victim's statements and eyewitness accounts.
The Mawasi is a strip of land approximately 12 km long and 1 km wide, located in the southwest of the Gaza Strip along the Mediterranean coast, from the north of Deir El-Baleh to the Egyptian border in the south. The total area amounts to approximately 11,000 dunums6, which is 3% of the Gaza Strip and 70% of the Yellow Areas. The Mawasi has two distinct areas of administration; the Khan Younis Mawasi and the Rafah Mawasi. Located to the west of the towns of Khan Younis and Rafah, the Mawasi is the most fertile part of the Gaza Strip. It is partly due to its agricultural importance to both the Palestinians and the settlements, which operate large agricultural projects, that it was put under the special security and civil affairs arrangements in accordance with the Agreement.
Prior to the current Intifada, the Mawasi was regarded as one of the most beautiful areas of the Gaza Strip, with its beach, sand dunes and palm trees. It was a rich agricultural area providing the surrounding towns with guava, dates, figs, tomatoes, peppers, eggplants, beans, cucumbers and sweet potatoes. It was also a recreational area for the people of Khan Younis and Rafah with coffee shops dotted along the beachfront and many people owned summer residences in the area.
To download the full report (PDF) click here.
Related Links:
Suffering in solation: A report on life under occupation in the Mawasi areas in the Gaza Strip (

PDF

),

PCHR

, August 2003