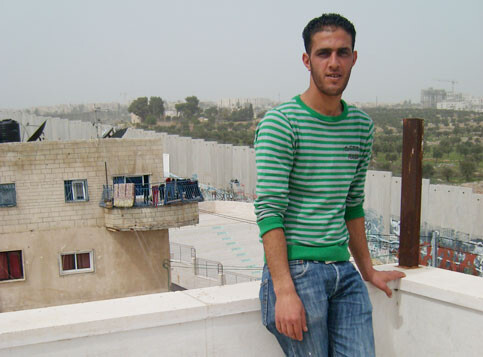 When Bilal Jadou's grandmother was sick last year, and in need of immediate medical care, the family called the Jerusalem emergency service and requested an ambulance — only to hear on the other end of the line that no Israeli ambulances would be permitted to reach the house without permission from the Israeli military. "Try the Bethlehem ambulance service," the emergency dispatcher told Jadou. When he called the Bethlehem ambulance, they told him to have his grandmother meet them at the other side of the main Bethlehem-Jerusalem checkpoint because they weren't allowed to cross. Jadou's house is on the other side of the sprawling apartheid wall, separated from his community and the West Bank, and in a permanent state of oppressive bureaucratic and administrative limbo as nearby settlements are intended to spread onto his land.

The Electronic Intifada correspondent Nora Barrows-Friedman interviewed Jadou, 26 years old, about his situation. They spoke inside Aida refugee camp, in Bethlehem.

Nora Barrows-Friedman: Tell us about your situation and why this story is so important in the context of what's happening here in the Bethlehem area, especially in Aida camp, which is right up against the wall, cutting the land of families here in half.

Bilal Jadou: My family is separated from each other. We used to live in the refugee camp here and in our other house that used to be within five minutes walking distance from here. Since the wall was built, we can't communicate as a family. Some of us live in this house in Aida, and the others live in our other house on the other side of the wall.

I have six brothers and three sisters. Two of the brothers, including me, and one of our sisters, are allowed by Israel to live in the house on the other side of the wall. No one else is allowed to be there. Now it sometimes takes two hours to cross the checkpoint in Bethlehem to see our family in Aida camp. Other times, the Israelis close the checkpoint entirely and we can't see each other at all.

NBF: How did the Israelis choose who was able to live in the house on the other side of the wall?

BJ: They said it was purely because of "security reasons," and we still don't know why some got permission and some didn't. Also, we can't add anything to the house; we can't build onto the house. At any time, they can come and take my permission and say it's for "security reasons."

NBF: Do you have a special ID card now? Such as a Jerusalem residency card? How are you identified as someone who lives on the other side of the wall?

BJ: I still have a West Bank Palestinian ID, with a special permission slip for just the Tantur area [where the house is]. If Israeli police catch me anywhere else other than at my house, or if they catch me working inside Jerusalem, they will take my permission away. I can just be inside the house, and nothing more.



NBF

: So, if you want to buy groceries, or go to the bank, or get gasoline for your car, or get to the hospital, what do you do?

BJ: We can't do any of these things. I can't even drive a car inside the area near the house. We're not allowed. We can't even take a taxi to the checkpoint. We have to walk. If we want to buy groceries, we can only buy them inside the Palestinian territories. But we are not allowed to bring anything from inside the Palestinian territories to my house. So the only way I can get food and supplies to my house is to have friends inside Jerusalem buy our groceries, or whatever we need, and bring them to us.

We have no services except water and electricity, which come from the Palestinian side of the wall. Israel won't allow us to have anything else. It's a way to push us to leave this area and go to the other side of the wall. This is the only reason they're doing this to us.

My grandmother got sick and we called the Israeli ambulance. They told us to coordinate with the Israeli soldiers, who then refused to allow the ambulance to reach us. The Palestinian ambulance told us that since they couldn't cross the checkpoint, we had to bring my grandmother to the checkpoint and they would take her to the hospital in Bethlehem. Since we couldn't use a car to bring her to the checkpoint, we put her on a donkey and walked her over there. But before we reached the checkpoint, my grandmother died.

NBF: On the other side of the wall, there is a lot of land that was cultivated by families in Beit Jala and Aida camp until the wall was completed in 2004. And then you have Gilo and Har Gilo settlements, right next to your house on the other side. Talk more about this policy of taking land, using the wall to separate communities, and forcing Palestinians to stay inside these ghettos in the West Bank.

BJ: There is a lot of land near our house owned by Palestinians. But we're the last family who are allowed to stay there. Just a few months ago, we tried to expand our house a little bit; we built a shed that was only two meters squared. The Israeli police came and told us that we had to stop building. If we want to fix the house, the police come. If we paint our house, the police ask us to remove the paint. But then you look across the street, and you see Gilo settlement with their cranes and bulldozers and construction teams building all the time, expanding all day long.

NBF: The police come often to check to see if you have put paint on the walls. But what about the treatment you receive by settlers?

BJ: The settlers attacked us once. They built a fence around our house and told us to leave. But we went to the court to prove that this was our house, with deeds and documents since the Ottoman period. The court gave us back our land and the permission to stay on our land. Most of the time, though, we get the most terrible treatment from the Israeli soldiers. They come and attack us. Once, they came and took all of our furniture from inside the house and threw it outside. They told us, "find another place to live!" They sometimes come at 2:00 in the morning, taking us outside of the house, and searching to make sure we haven't built anything or fixed anything inside the house.

I was once told by a soldier, after he took my ID card one night, to go to the checkpoint to retrieve it. I got to the checkpoint, and the soldier called me on my mobile phone, telling me that he was outside of the house, and I should come back to get it. I went back to the house, and then he called and said that he was at the checkpoint. This went on until 6:00 in the morning. Sometimes they take my ID card to other checkpoints so I'm forced to travel a long distance to retrieve it. They're trying to put a lot of pressure on us so that we leave the area and they can expand the settlement.

NBF: Tell me about your family's history. We're sitting inside your home in the refugee camp. Where was your family from, originally, before they were expelled in 1948?

BJ: Originally, we're refugees from al-Malha. It's just one kilometer away, five minutes away by car. Some of my family fled in 1948 and came here. Even part of the refugee camp is on al-Malha land, inside the West Bank borders. When the Israelis invaded and occupied the West Bank in 1967, some of the family decided to go back to the house in al-Malha, inside the so-called Israeli area. So now we're separated into three parts — my family in Aida camp, my brothers and sisters inside the house on the other side of the wall, and the rest in al-Malha. We haven't been together as a family — we haven't all sat down to dinner together — for six years.

Sometimes, if something is happening inside the camp, like a wedding for a friend or neighbor, we have to leave our house at nine in the morning to be sure we're at the wedding by three in the afternoon. We're affected a lot by the separation.

NBF: It used to take you five minutes to get to the camp from the house before the wall was built.

BJ: Yes, five minutes, not more. Sometimes, if I walk quickly, it used to take three minutes. Now, it's half an hour just to walk to the checkpoint. Then I spend sometimes two, three hours inside the checkpoint.

NBF: What do you think about the next generation of Palestinians who are facing similar situations? When you get married and have children, what do you want for them?

BJ: I hope everything changes. The situation is extremely difficult, and I hope that the new generation can live in peace without any conflicts. Actually, when you mentioned marriage, this is a very depressing issue for me. I tried to get married recently. But I can't, because I'm living in this area. If I marry a girl from Bethlehem, I can't live with her in Bethlehem because then I'd have to move to the city and lose my land and my house. If I want to marry a girl from Jerusalem, she'd refuse. I don't have an Israeli ID and I can't go anywhere inside Jerusalem. This is no way to make a family. So I'm stuck.

I think I'll never get married, because I need to protect my house. Maybe there'll be a solution soon, and things will change.

All images by Nora Barrows-Friedman.

Nora Barrows-Friedman is the co-host and Senior Producer of Flashpoints, a daily investigative newsmagazine on Pacifica Radio. She is also a correspondent for Inter Press Service. She regularly reports from Palestine, where she also runs media workshops for youth in the Dheisheh refugee camp in the occupied West Bank.