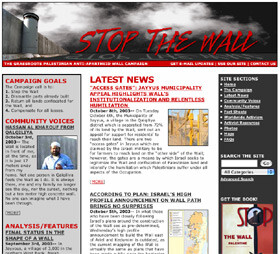 After months of anticipation, the Anti-Apartheid Wall Campaign formally announces the new website for mobilizing to Stop the Wall in Palestine, at
StopTheWall.org
. The Stop the Wall site comes at a time when the Apartheid Wall's pace is accelerating daily throughout the West Bank, making momentum and solidarity around the Campaign urgent.
The website will be a pivotal means for the Anti-Apartheid Wall Campaign to encourage and support solidarity around the Campaign declared International Day Against the Wall, November 9th. On this day, which was called for by communities affected by the Wall as it coincides with the fall of the Berlin Wall, events and actions will take place worldwide against the Wall in solidarity with those in Palestine, further amplifying the Palestinian national call to Stop the Wall!
In order to keep people aware of the Apartheid Wall's devastating reality, the Stop the Wall site is being updated regularly with news from the Campaign and testimonies from communities as well as activist resources for mobilizing against the Wall. Such resources include downloadable fact sheets, posters, high resolution photos, maps, petitions, T-shirt design, and PowerPoint Presentations. Already, some of these materials are available in multiple languages and the Campaign seeks to make the site available in more languages.
Through the site's section "Worldwide Activism", the Campaign will be posting events from across the globe for November 9th. Please visit the site and mobilize with the Anti-Apartheid Wall Campaign to Stop the Wall!
The Anti-Apartheid Wall Campaign is a Palestinian national grassroots movement against the Wall coordinated by the Palestinian Environmental Nongovernmental Organizations Network (PENGON) and rooted in the communities affected by the Wall. The Campaign, which began in October 2002 some one year ago, gives a unified and strong voice on a national and international level to the call to Stop the Wall.
To visit the site and learn more about the Campaign and November 9, see StopTheWall.org.