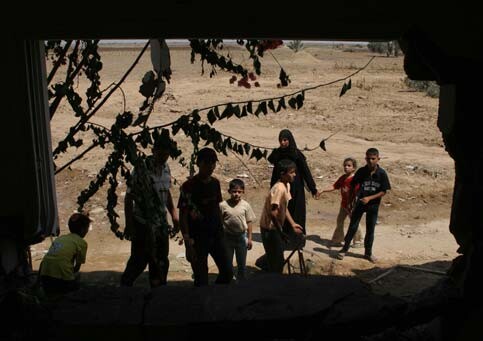 Physicians for Human Rights-Israel decries the collective punishment that Israel is inflicting on the civilian punishment in the Gaza Strip � this kind of punishment is forbidden by International Law and by all reasonable moral standards.
Over the past week, since the solider Gilad Shalit was captured by Palestinian organizations, Israel has been attacking the civilian population of the Gaza Strip, using means that are in direct violation of international conventions that call to avoid indiscriminate harm to civilians. Moreover, Israel is committed under international law to actively protecting residents of the Gaza Strip from implications of the war while clearly separating civilians and those involved in the fighting.
In the Gaza Strip there is an intermittent food shortage which is used to exert forbidden pressure on the Palestinian civilian population. The Geneva Conventions clearly state that ��in no event shall actions against these objects be taken which may be expected to leave the civilian population with such inadequate food or water as to cause its starvation or force its movement.�(art.54(3)(b)).
Additionally, the power stations in Gaza were harmed by Israeli attacks resulting in an acute shortage in electricity. One of the consequences of this action is that the water pumps, which use electricity, are only partially operational, creating a shortage of drinkable water.
Israel continues to carry out fly-bys with resulting super-sonic booms over the Gaza Strip. These actions lead to psychological torture which causes damage in children whose lives have turned into a continual nightmare consisting of panic attacks, sleep disturbances, bedwetting and other detrimental effects.
Today, Physicians for Human Rights-Israel is filing an appeal with the Israeli High Court for a temporary order to stop the fly-bys over the strip due to the fact that they are in violation of the Convention on the Rights of the Child, of which Israel is a signatory. The Conventions states �In accordance with their obligations under international humanitarian law to protect the civilian population in armed conflicts, States Parties shall take all feasible measures to ensure protection and care of children who are affected by an armed conflict" (article 38).
The attacks on the Gaza Strip are redolent of revenge and an instilment of fear in the civilian population, both of which are clearly forbidden.
Section 50 of the Hague Convention forbids collective punishment of a civilian population in response to actions perpetrated by individual members of that population.
"Civilian objects shall not be the object of attack or of reprisals" (Geneva Conventions, Protocol 1, art.52(1)).
Physicians for Human Rights calls on Israel to stop these actions immediately and allowed he return of normal life for the civilian population of the Gaza Strip.
For more information:
Maskit Bendel, Director: Occupied Territories Project, +972-54-7700477
Shabtai Gold, Public Outreach, +972-54-4860630
Physicians For Human Rights-Israel was founded in 1988 with the goal of struggling for human rights, in particular the right to health, in Israel and the Occupied Territories. Human dignity, wellness of mind and body and the right to health are at the core of the world view of the organization and direct and instruct our activities and efforts on both the individual and general level. Our activities integrate advocacy and action toward changing harmful policies and direct action providing healthcare. Today Physicians For Human Rights-Israel has more than 1150 members, over half of whom are healthcare providers.
Related Links