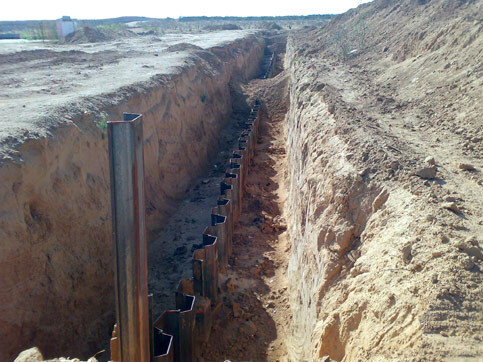 As if the siege of Gaza were not already bad enough, Israel and Egypt are working even harder to tighten the prison which holds Gaza's 1.5 million people.

Egypt is building a steel wall along its 10-kilometer-long border with the Gaza Strip, according to recent media reports. This wall apparently extends not only above ground, but deep into the ground in an attempt to prevent Palestinians digging the tunnels that have become a lifeline for the territory.

As early as July 2008, the Israeli daily Haaretz reported that the US Army Corps of Engineers was consulting with Egypt on the project and recent reports say the US is still involved in this cruel plan to further isolate Gaza's population and violate their rights as an occupied people under the Fourth Geneva Convention.

It is well-known that Palestinian have dug hundreds of underground tunnels to counter the ongoing siege of Gaza and to import their basic necessities from Egypt as all of Gaza's crossing points on the Egyptian and Israeli side have been routinely closed for almost three years.

Smuggling is normally illegal and shames and incriminates those who engage in it. Not in the case of Gaza though, where forcing a besieged population to act like moles and to dig deep underground to import in their needs from kerosene to cooking oil — also used as car fuel — to livestock, is actually an affront to the so-called civilized world, but more specifically to the Arab world which is acquiescing in the lethal blockade and humiliation imposed upon the Palestinians.

If siege is an act of aggression and war, then breaking out of it by any means is an act of self-defense and resistance. History records people's struggle for liberation and independence from any form of repression or aggression as heroic and honorable. Every nation is proud of its past deeds and its successful struggle for its national goals, as well as its victories and its heroic achievements no matter how much war, violence, bloodshed, death and destruction were involved. Why should the Palestinians be constantly punished, from friend and foe alike, for simply seeking their dignity, liberation, usurped rights and freedom? Indeed, dozens of Palestinians have given their lives digging and operating the dangerous, but vital tunnels.

The Palestinians have long been condemned as "terrorists." In comparison, the Israelis are the ones who are always, under all circumstances, act in "self-defense" against Palestinian "aggression." For Israel and its apologists, the illegal eviction of the Palestinians from their homeland is not aggression or terrorism. The continued occupation of the West Bank, in its fifth decade now, is not aggression. The strangulating siege of Gaza is not aggression. The imprisonment of more than 10,000 Palestinians is not aggression. The occupation of Syrian lands since 1967 is not aggression. Daily incursions in Palestinian towns and villages to arrest or assassinate Palestinians are not aggression. Neither devastating wars causing thousands of civilian deaths, against Lebanon (2006), Gaza (2008/09) and air raids against Syria are forms of aggression. But retaliation or resistance to any of such acts is "terrorism."

The pretext for the Gaza siege, Israeli, Egyptian, Arab or international is the alleged Hamas "coup" against the "legitimate" Palestinian Authority in Ramallah in June 2007, and the Hamas rockets fired at Israel. There is another Hamas "crime," the holding of the lone Israeli prisoner of war.

Although it has been proven time and again that there was no Hamas coup; there was in fact an act by a legitimately elected authority to abort a coup. Hamas has also fired no rockets during the ceasefire that Israel violated in November 2008, and has once again operated a unilateral ceasefire even though Israel continues its attacks and invasions of Gaza.

But let it be assumed that Hamas deserves all this punishment and more, why should the other 1.5 million innocent people in Gaza be collectively punished with them?

Should people in Gaza just sit still and watch their children starve? Is it not a moral duty and existential necessity for all people to fight for their dignity and survival? Why should only the Palestinians be denied this right?

If it is true that Egypt is building the steel wall — Egypt has denied it despite repeated claims otherwise — it will indeed be a shameful measure intended to acquiesce to American and Israeli pressures.

To stop "smuggling" into Gaza there is a cheaper and an easier way than building more cruel and futile walls: open the Rafah crossing for food and domestic needs, building materials and energy supplies — not for rockets — and insist that Israel open the crossings on its side connecting Gaza to the rest of the country.

The excuses for Gaza may be rockets or tunnels, but in fact the tightening of the Gaza siege is part of a total effort by Israel to besiege the entire Palestinian population in the occupied territories. For more than 40 years, Palestinians in the occupied West Bank have been living under a tightening siege. First, their freedom to move in and out of the occupied territory has been severely curtailed and later — especially during the years of the so-called "peace process" — the occupier imposed internal barriers that have made it virtually impossible to pass from one town to the other without encountering one of the hundreds of roadblocks and checkpoints that have rendered the West Bank a series of ghettos surrounded by expanding settlements. Finally there is the illegal apartheid wall — which brave, heroic Palestinians recently breached in several places demonstrating that no amount of concrete and steel can suppress the human desire for liberation.

Hasan Abu Nimah is the former permanent representative of Jordan at the United Nations. This essay first appeared in The Jordan Times and is republished with the author's permission.