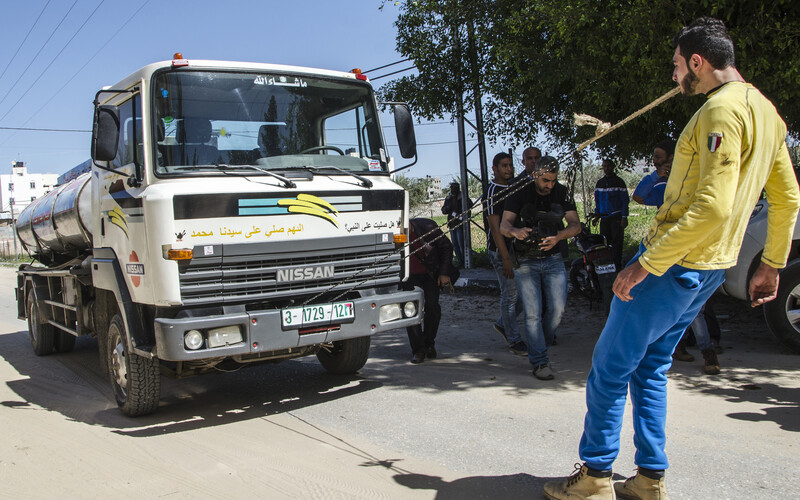 It started with a bet. Muhammad Barakah was chatting with some of his neighbors when one of them challenged him to lift a 110 pound bag of sugar using only his teeth.
"I didn't believe that I could do that," Barakah said. "But I accepted the bet. And I was able to carry the bag."
Since that time around two years ago, Barakah has become famous as the "daredevil of Gaza."
At his public shows, passersby are amazed at how he can pull a four-ton truck with a rope in his mouth. He has knives thrown at him without causing any injury. And a friend uses a hammer to break bricks on Barakah's chest and arms.
"People might imagine that I have some extraordinary diet or drinking habits, or that I do some special exercises," said Barakah, whose slim figure makes him look quite different than a typical bodybuilder. "Well, I don't."
Though the sugar bag bet prompted him to perform in public, Barakah, 20, was known to display his strength while at high school.
At a party for his class, Barakah undertook a stunt that involved crawling through fire as if he were a snake. "It was an amazing scene," said his friend Muhammad al-Faleet.
Barakah grew up in the town of Deir al-Balah in the central Gaza Strip. "Muhammad's strength is unique," said his father Kamal. "I don't remember anyone in our family being so strong."
While Barakah's fame is new, he hopes that it can prove beneficial for his community. He would like to promote sports in Gaza and to have a sports club, where he can do so. He also dreams of Gaza having its own circus.
Beyond the entertainment, Barakah wants to project a positive image of Gaza. Despite his strength, he insists that he is not aggressive and that he whispers prayers while performing.
"Generally speaking, I never feel like getting into a fight with anyone," he said, as he rested under a tree after pulling a truck with his teeth.
"My message is one of peace to the outside world. We Palestinians are normal human beings, who can have talent, education and strength."
Rami Almeghari is a journalist and university lecturer based in the Gaza Strip.
Tags