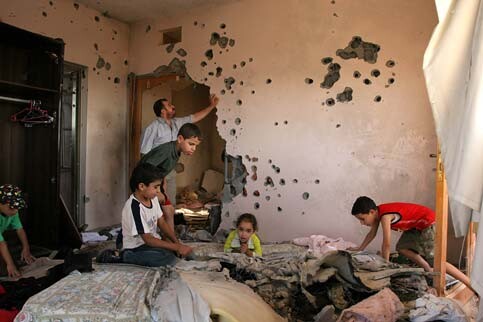 8 July 2006 - The United Nations Humanitarian Agencies working in the occupied Palestinian territory, are alarmed by developments on the ground, which have seen innocent civilians, including children, killed, brought increased misery to hundreds of thousands of people and which will wreak far-reaching harm on Palestinian society. An already alarming situation in Gaza, with poverty rates at nearly eighty per cent and unemployment at nearly forty per cent, is likely to deteriorate rapidly, unless immediate and urgent action is taken.
The United Nations Relief and Works Agency (UNRWA), which works with 980,000 refugees, believes that Gaza is on the brink of a public health disaster. Since the strike on Gaza�s only power plant on June 28th, the entire strip is without electricity for between 12 and 18 hours every day. The Coastal Municipality Water Utility is now relying on its own backup generators to operate its 130 water wells and 33 sewage pumping plants. As it only has 5,000 liters of the 18,000 liters of fuel needed, the Water Utility�s daily operation has been cut by two thirds, resulting in water shortages and a critical situation at the sewage plants. With restrictions on the humanitarian supply lines there is now a backlog of over 230 containers of food awaiting delivery through the Karni Crossing and the bill for surcharges arising from these delays has reached as staggering half a million dollars.
According to the World Health Organisation (WHO) the public health system is facing an unprecedented crisis. WHO estimates that though hospitals and 50 per cent of Primary Health Care Centres have generators, the current stock of fuel will last for a maximum of two weeks. Those generators which are being used were intended for backup purposes and the malfunctioning of these generators will have grave consequences. According to WHO in the last week, there has been a 160 per cent increase in cases of diarrhea compared with the same period last year. Compounding these problems, WHO estimates that 23 per cent of the essential drug list will be out of stock within one month. WHO is also alarmed by the tightening of restrictions on patients needing to leave Gaza for treatment. Only a handful of extremely critical cases have crossed through Erez since June 25th even though prior to current developments, an average of 25 cancer patients left through Erez every week. According to WHO, the monthly referral rate of emergency patients stands now at between 500 and 700 people.
The World Food Programme (WFP) estimates that in June 70 % of the Gaza population were already unable to cover their daily food needs without assistance. The escalation of hostilities has made food an increasingly critical issue. Wheat flour mills, food factories and bakeries, reliant on electricity are being forced to reduce their production due to power shortages; furthermore the loss of capacity to preserve perishable food in the Gaza heat is resulting in high food losses in the home. Supplies of sugar, dairy products and milk are running extremely low due to limited commercial supplies from Israel; as a result food prices have increased by 10% in the past 3 weeks. WFP is assisting 160,000 of the most food insecure non refugees in Gaza and is standing by to respond to additional needs as they emerge as part of a coordinated interagency response. WFP believes it is essential that a humanitarian corridor for relief items and personnel remains open to avert a further deterioration in the food security situation at this critical time.
According to the United Nations Childrens� Fund, (UNICEF) children in Gaza are living in an environment of extraordinary violence, insecurity and fear. Electricity and fuel shortages are leading to a reduction in the quantity and quality of health care and water accessible to children. The ongoing fighting is hurting children psychologically. Caregivers say children are showing signs of distress and exhaustion, including a 15%-20% increase in bedwetting, due to shelling and sonic booms. UNICEF-supported counseling teams also report a large increase in the number of requests for assistance. UNICEF says steady supplies of fuel and electricity are needed to store safely and transport vaccine and drugs, and for operating primary health care facilities. UNICEF stressed that children are always most vulnerable to outbreaks of communicable disease brought on by lack of water and sanitation.
The use of force by Israel during its military operations into the Gaza Strip has resulted in an increasing number of deaths and other casualties amongst the Palestinian civilian population, and significant damage to civilian property and infrastructure, says the Office of the High Commissioner for Human Rights. Whilst Israel has legitimate security concerns, international humanitarian law requires that the principles of proportionality and distinction between civilians and combatants be respected at all times. The prohibition on targeting civilians is also being violated by Palestinian armed groups, launching missiles from the Gaza Strip into Israel, and must therefore end. The deterioration in the current human rights situation requires that measures are promptly taken to put an end to these actions and to ensure the protection of civilians.
The Office of the Co-Ordination of Humanitarian Affairs (OCHA) is calling for the continuous and unimpeded access for humanitarian assistance and fuel supplies. Nahal Oz and Karni must remain open twenty-four hours a day, if humanitarian need is to be adequately met. In addition, OCHA is calling for the opening of the Rafah Crossing, to allow in 250 passengers stranded in Egypt and to allow the passage of emergency health cases that cannot be treated in Gaza. UN operations to deliver assistance are already being hampered by the fighting. But humanitarian assistance is not enough to prevent suffering. With the bombing of the electric plant, the lives of 1.4 million people, almost half of them children, worsened overnight. The Government of Israel should repair the damage done to the power station. Obligations under international humanitarian law, applying to both parties, include preventing harm to civilians and destroying civilian infrastructure and also refraining from collective measures, intimidation and reprisals. Civilians are disproportionately paying the price of this conflict. In the immediate future, OCHA fears that the humanitarian situation could easily deteriorate, with continued Israeli military operations and artillery shelling, which could damage the remaining infrastructure and essential services.
The United Nations humanitarian agencies believe that the facts on the ground speak for themselves and carry their own imperatives to all parties. Unless urgent action is taken, we are facing a humanitarian crisis that will have far reaching consequences for the communities we work in and the institutions we work through.
Related Links