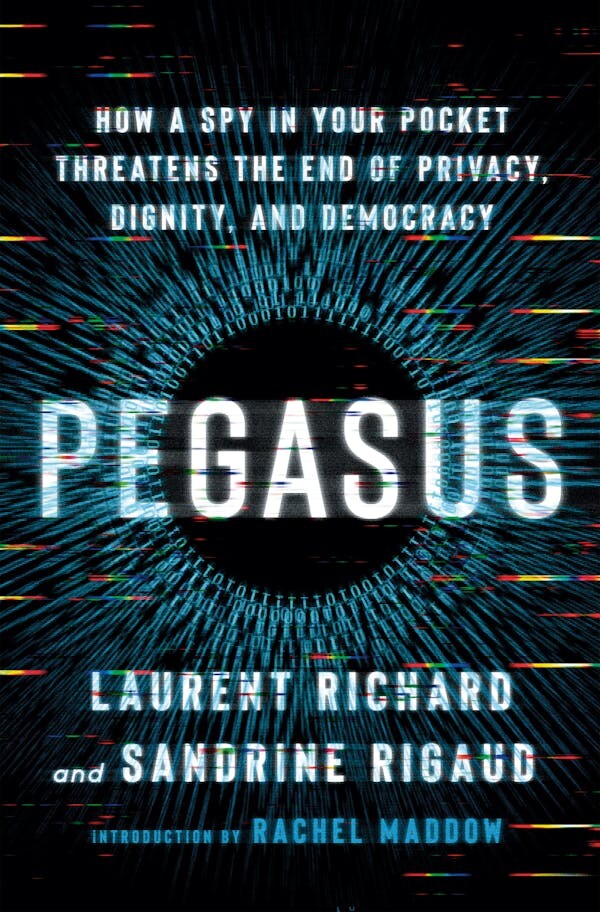 Pegasus: How a Spy in Your Pocket Threatens the End of Privacy, Dignity, and Democracy by Laurent Richard and Sandrine Rigaud, Henry Holt and Co. (2023)
The TV host Rachel Maddow describes Pegasus and the story it tells as "freaking compelling stuff."
Maddow writes – in the book's introduction – that "it's an edge-of-your seat procedural about the heroes who found this dragon and then set out to slay it."
Authored by Laurent Richard and Sandrine Rigaud from the investigative journalism group Forbidden Stories, Pegasus is the outcome of a probe initiated by the leak of 50,000 possible surveillance targets.
The investigation aimed to uncover the unlawful usage of Pegasus spyware against noncriminal figures, including human rights activists and journalists. Pegasus was developed by the Israeli company NSO – the initials of Niv, Shalev and Omri, its founders' first names.
The book's authors do a fine job providing readers with an insider's perspective of the events during the investigation.
The Pegasus investigation team was led by Forbidden Stories and Amnesty International's Security Lab and involved a partnership with 17 media organizations worldwide to reach out to journalists and gather evidence of Pegasus attacks.
The book documents the tremendous efforts by Amnesty's cybersecurity specialists, Claudio Guarnieri and Donncha Ó Cearbhaill, to design the security protocols that kept the investigation under wraps until publication and develop the forensic tool used to trace Pegasus in infected mobile phones.
Pegasus raises ethical worries around licensing the spyware to clients with poor human rights records and highlights the cases of journalists who have been abused by their governments, such as Omar Radi (from Morocco), Khadija Ismayilova (from Azerbaijan), and "the golden get" – as Dana Priest from The Washington Post described it – the case of Jamal Khashoggi and evidence implicating Pegasus in his murder.
The style of Pegasus is mostly anecdotal or exploratory, which allows for engaging storytelling. The personal connections to the story are emphasized.
Without doubt, the book can appeal to a broader audience beyond technology experts, given that the authors avoid technical jargon and explain complex concepts in a way that is easy to understand.
Pegasus is a tool for hacking and monitoring smartphones, compromising individuals, groups, and even entire governments. It can turn a device that we carry in our pockets or handbags every day into a spy.
The use of the spyware was initially reported in 2016. Over time, it has become more technically sophisticated with advanced features that enable it to infect phones without any action required from the target.
Rachel Maddow outlines in the book's introduction the enormous amount of information that Pegasus can steal: "That includes all text and voice communications to and from the phone, location data, photos and videos, notes, browsing history, even turning on the camera and the microphone of the device while the user has no idea it's happening."
"Vast sums"
Later in the book, its authors delve into NSO's history.
They note, for example, that NSO was set up in 2010. One of its founders Niv Karmi was at that time a "recently retired Israeli military officer, who specialized in intelligence."
In 2019, Benjamin Netanyahu – then (as now) Israel's prime minister – bragged that his government had invested "vast sums of money in military intelligence." These vast sums went to Israel's army – which has a specialist technology division known as Unit 8200 – and to its spying agencies Mossad and the Shin Bet.
The book exposes how Israel uses Pegasus as a bargaining chip when developing relations with other governments. It is no coincidence, the book suggests, that Netanyahu's alliance with Viktor Orbán, Hungary's prime minister, became noticeably stronger "right around the time NSO licensed Pegasus to Hungarian authorities."
Laurent Richard highlights the role technology has played in Netanyahu's efforts to "create a united front against Iran in the Middle East." Richard explains that the Israeli government made sure to include "military-grade spyware" as part of Israel's "package of goodies" offered to tempt and seduce "prospective allies."
The Israeli government bore responsibility for approving licenses for the export of Pegasus. As the book states, Israel's defense ministry "had discretion to permit sales of the Pegasus system" so long as the identities of end users were kept secret.
Esther Hayut, the president of Israel's high court, has commented, "Our economy, as it happens, rests not a little on that export."
While researching the use of Pegasus, Richard interviewed Edward Snowden, who blew the whistle 10 years ago about a major surveillance program run by the National Security Agency in the US. Snowden lamented the lack of oversight mechanisms over Pegasus usage.
"There's no limitation," he said. "There's only Israel pinky promising that they're going to have their Ministry of Defense or whatever review the export license."
The Pegasus Project investigation team successfully identified more than 1,000 people from an initial list. As well as human rights activists and journalists, they even included Emmanuel Macron, the French president.
While NSO's stated goal is "saving lives," it has contributed massively to the weaponization of cyber-surveillance by oppressive governments. The book demonstrates that NSO's denials that Pegasus was used to spy on Jamal Khashoggi and his loved ones were lies.
Litmus test
Despite acknowledging the role played by spyware exports in Israel's international relations, the book misses an opportunity to shed light on these relations' negative impacts on Palestinians and their rights.
A January 2022 article published in The New York Times Magazine by Ronen Bergman and Mark Mazzetti revealed how Israel used Pegasus to earn diplomatic gains. After being equipped with Pegasus, Mexico abstained from voting on several "pro-Palestinian" United Nations resolutions.
Bergman and Mazzetti noted that Panama supported Israel against Palestinians after installing NSO systems in 2012, while India shifted its position on Palestine after agreeing on the importation of intelligence equipment, including Pegasus. India opposed granting observer status to a Palestinian human rights organization at the UN's Economic and Social Council in 2019 despite India's past support for the Palestinian cause.
Front Line Defenders, a human rights organization based in Dublin, revealed in 2021 that Israel used Pegasus to spy on six Palestinian activists. That revelation is only briefly mentioned in the book's epilogue.
In total, the words "Palestinian" or "Palestinians" are mentioned only twice in the book and the boycott, divestment, sanctions (BDS) movement only once. The words "Palestine," "West Bank" and "Gaza" do not feature at all.
This is not just about words, of course.
The book ignores how Israel's weapons and surveillance technology have been "battle tested" – as makers of that technology say in their promotional brochures – on Palestinians. It is as if Palestinians do not exist or are not deemed to be worthy sources.
Similarly, Pegasus does not tackle Israel's history of spying on Palestinians. Unit 8200 is known to intercept private data about Palestinians – including information on their sex lives, medical issues and personal finances – so that the Israeli military can recruit collaborators through blackmail and extortion.
Palestine is a litmus test for journalists. Are they prepared to expose Israel's crimes against Palestinians, even if it means their own career prospects may suffer?
The authors of Pegasus fail that test.
Refaat Alareer is a writer and an academic from Gaza. Twitter: @iTranslate123
Randa Shehada contributed research.
Tags