When Aref Jaber went to investigate reports that a group of Israelis were planning to build a settlement outpost on his land near the Kiryat Arab settlement in Hebron, he did not foresee the violence about to come his way.
But the 45-year-old taxi driver was forced to abandon his car – his private car – when he was set upon by what he described as a gang of seven settlers.
By the time Jaber returned, the men had pummeled his car with rocks and stones and smashed the windows.
"Two Israeli soldiers were there watching and didn't do anything to stop them," Jaber told The Electronic Intifada.
The attack occurred in early January.
And things soon got worse. Just a week later, settlers blocked the road access to Jaber's 25,000 square meters of land and uprooted 100 of his olive trees.
That, according to Jaber, was the third time settlers had targeted his land. The fourth happened on 10 February, when they were held at bay by a group of activists until Israeli soldiers turned up, broke up the two groups and declared the whole area a closed military zone.
While that means settlers cannot go there, neither can Jaber. He has, in effect, lost his land because of settler violence.
Jaber is just one of dozens of Palestinians to be targeted – either directly or indirectly – in a monthslong spike in attacks by settlers across the occupied West Bank, including East Jerusalem.
Some incidents have been fatal.
On 10 February, Azzam Amer was killed after being hit by a settler in his car near Salfit, in the West Bank. Israel says it is investigating what Palestinian media reported as a deliberate act.
A similar car ramming incident in August last year saw Eqab Darawsheh, 21, killed south of Tulkarm.
On 5 February, Khaled Nofal, was shot and killed by an Israeli settler near the town of Ras Karkar. The 34-year-old accountant, a father of one, was unarmed.
Most incidents have resulted in injuries or damage to property.
B'Tselem, an Israeli human rights organization, has reported a total confirmed 49 incidents of violence committed by settlers against Palestinians over just one month spanning December and January.
Nine Palestinians were injured in these attacks, including an 11-year-old girl named Hala Mahmoud Al-Qet.
Hala was hospitalized after a gang of settlers on a vandalism spree in the village of Madama, outside Nablus, pelted her with stones on her way home from her uncle's house.
The United Nations Office for the Coordination of Humanitarian Affairs reported that of 12 incidents in the period from 5 January to 18 January, eight resulted in physical injuries.
Total impunity
This current round of settler violence against Palestinians began much earlier than December, however.
Al-Haq, a Palestinian rights organization, began recording a spike as far back as July 2020, documenting 68 attacks in the period July to October last year.
It peaked again in December following the death of a young settler, Ahuvia Sandak.
The 16-year-old from the settlement Bat Ayin, south of Jerusalem, died in an accident resulting from a high speed chase by Israeli forces after he allegedly threw stones at Palestinians.
His death sparked weeks of settler protests at central junctions across the West Bank, sometimes blocking traffic for hours at a time, and attacking Palestinian vehicles.
Sandak and three other boys who were in the car at the time of the crash were part of the Hilltop Youth, a far-right movement whose ideology is premised on the expulsion of Palestinians through the establishment of settlement outposts in the occupied West Bank.
The Hilltop Youth are notorious for initiating attacks on Palestinians in their vicinity, including people like Muataz Qasrawi, 38.
Qasrawi, a car mechanic, was enjoying a quiet New Year's Eve with his wife and four children at his house in the village of Huwara, near Nablus, when suddenly around 9:30 pm a group of settlers began peppering his windows with stones and rocks.
Amid a flurry of smashed glass, Qasrawi ran to grab his newborn son from his crib while his wife, unable to escape in time, sustained an injury to her leg.
Even several weeks later, Qasrawi's children, the oldest only 10, continue to suffer from the attack.
"They haven't been able to sleep one night since, they are traumatized from watching their mother get hit in front of their eyes," Qasrawi told The Electronic Intifada.
Qasrawi suspects the perpetrators, a group of about seven to 10 men, to be from the neighboring settlement of Yitzhar, notorious among human rights groups for repeated violent attacks in surrounding villages.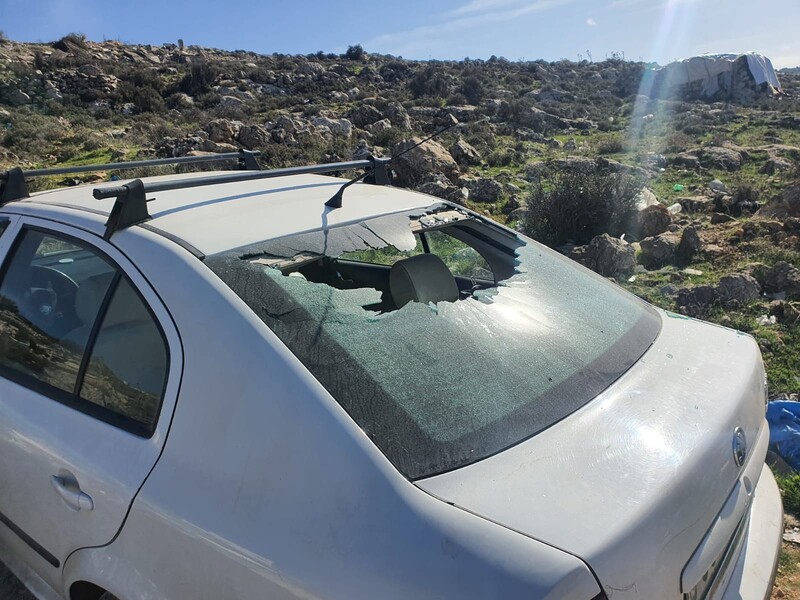 The settlers fled the scene under the cover of darkness. Israeli military forces arrived an hour later.
Qasrawi said he submitted the security camera footage of the attack to the Israeli court. There has been no response to date.
According to Shahd Qaddoura, a field researcher with Al-Haq, settlers generally enjoy wide impunity. Most of the attacks documented by the group, she said, happened under the eyes of Israeli soldiers, if not actively encouraged by them.
Israeli settlers and Palestinians in the West Bank live under different legal systems even though they reside in the same area.
Thus, settlers answer to Israeli domestic law while enforcement is undertaken by Israel's civil police.
By contrast, Palestinians live under Israeli military law, which is enforced by the army. As a result, they can be detained indefinitely without trial and, if they do have their day, they do so before a military court in which secret evidence is allowed.
Their different treatments are reflected in rates of indictments and prosecutions.
Conviction rates in military courts are nearly 100 percent.
By contrast, according to Yesh Din, an Israeli rights groups, 91 percent of the investigations opened by the Israeli civil police in the occupied West Bank from 2005 to 2019 were closed with no indictment filed.
With such impunity, settler violence has become so standard a response to tensions in occupied territory that it even has its own name: "price tag" attacks.
The price tag attacks are so called because they refer to acts of violence committed by settlers against Palestinians to preempt any serious enforcement effort by Israeli authorities against settler communities, prevent any attempt by the Israeli government to remove settlement outposts or curb settlement construction, or as a response to any violence committed against settlers.
So while their latest grievances are largely with the Israeli police, whom settlers blame for Sandak's death, they have seized on the tensions to attack Palestinians.
"They are seeing this as an opportunity to take their anger out on innocent people," Muhtaz Tawafsheh, the mayor of the village of Sinjil, northeast of Ramallah.
Since 15 December, Tawafsheh has started offering shelter in the municipality building to Palestinian commuters when settlers began blocking main junctions nearby and pelting cars with stones and rocks.
"A living hell"
Constant harassment by settlers combined with the impunity they enjoy, is widely seen as part of years of broader efforts to drive Palestinians off their lands and out of homes.

"They just want to make life for the Palestinians a living hell," the taxi-driver Aref Jaber told The Electronic Intifada. And they work hand in hand with the military, he added.

"By applying restrictions and rules, attacking us physically, arresting us, and humiliating us on a daily basis all in order to put the families here in a situation where they are forced to leave their homes and they can expand their settlements."

Al-Haq's Shahd Qaddoura said she fears the violence will only continue to escalate through 2021.

Even Israeli security forces have expressed concern, anonymously telling Israeli media that, "the police are losing control….violence [by settlers] against Palestinians and security forces has reached new heights."

Mohammad Shtayyeh, the Palestinian Authority's prime minister, on 22 January issued a statement calling on the new US administration to join him in condemning the violence as "organized settler terrorism" and interevene in accordance with UN Security Council Resolution 2334.

He also urged the UN to take action to protect Palestinians and enforce an international travel ban on settlers involved in such attacks.

Shtayyeh's statement followed a particularly brutal incident in which settlers threw Molotov cocktails at the houses of residents in the village Burin and attacked a car, injuring a 3-year-old child.

On the same day, a Palestinian family living in a cave in South Hebron reported being attacked by a group of men from the Susiya settlement.

The Murr family, originally from Yatta, a village near Hebron, were expelled from their original home and are now living in a cave in the neighborhood of Tawamin. On the day of the attack, the family told local media, settlers lingered by their cave home for hours, shouting profanities at the family, dancing around and making loud noises.

"They shouted: 'we came here before you, this is our land,'" Ismail Murr, a member of the family, told reporters for Khabar24.

Murr also told reporters that this harassment has been going on every day for the past two weeks.

"They want us to run away scared," Murr said. "But we are here on our land, and we won't ever move."

Kelly Kunzl is a freelance journalist.
Tags