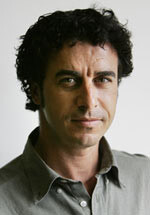 Reporters Without Borders said it was extremely worried by the kidnapping of Emilio Morenatti, a Spanish photographer with the
US
news agency Associated Press, in the Gaza Strip this morning.
"We firmly condemn Morenatti's abduction and we call on the Palestinian authorities to do everything possible to get him released quickly," the press freedom organisation said. "He is the eighth journalist to be kidnapped in the Gaza Strip since the start of the year. All were freed safe and sound but no investigation has ever been concluded and none of the kidnappers has been punished."
Reporters Without Borders added: "Journalists have become a favourite target of the armed groups that operate in Gaza with a disturbing degree of impunity." The organisation wrote to Palestinian President Mahmoud Abbas in August voicing alarm about the climate of violence for journalists in Gaza and demanding effective measures to ensure their safety.
Morenatti, 37, was kidnapped by four masked gunmen as he left his home in Arrimal, in the western part of Gaza City. His assistant, Majid Hamdan, said they stuck a gun to his head as he waited for Morenatti in an Associated Press car outside, taking his keys and mobile phone. Then they drove off with Morenatti in a white car. No group has so far claimed the kidnapping.
Related Links

Kidnapped

AP

photographer freed, Committee to Protect Journalists (24 October 2006)