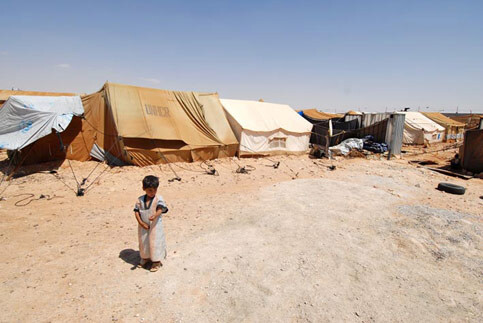 BAGHDAD

(

IRIN

) - The Iraqi government has launched a registration process for Palestinian refugees who arrived between 1948 and 1967 — and their descendants — to help ensure they benefit from government aid programs.

Those registered will be issued with ID cards which identify them as refugees, the Ministry of Displacement and Migration said on 26 August.

"We started the process three months ago and so far we have registered about 10,500 Palestinian refugees [in] Baghdad," said Samir al-Nahi, head of the Ministry's Humanitarian Directorate.

"Our teams will soon head to the northern province of Nineva and the southern province of Basra to register other Palestinian refugees … Another team will visit al-Walid camp inside Iraqi territory on the border with Syria," al-Nahi told IRIN.

Al-Nahi said the aim is to update government data on the number of Palestinian refugees, and determine their marital status and number of children so they can be covered by the government's aid programs.

He did not say for how many years the new ID cards would be valid but said they would contain a code to facilitate participation in government aid programs.

"It is a gain for them," al-Nahi said.

Dalil al-Qasous, the Palestinian charge d'affairs in Baghdad, welcomed the initiative as a "sign of the brotherhood of the Iraqi people and its government," and called for immediate assistance to be given to Palestinians who "are still going through an acute humanitarian situation at the border camps."

Al-Qasous believes there are about 3,000 qualifying Palestinian refugees in Nineva and Basra.

"We highly appreciate the efforts by the Iraqi government to offer us all the possible facilities to help us," al-Qasous told IRIN.

Some 34,000 stateless Palestinians were living in Iraq before the US-led invasion in 2003 when their community started to face persecution at the hands of armed groups who accused them of loyalty to the Saddam Hussein regime.

The killings, abductions and persecution have forced thousands to flee to Jordan and Syria, while others have been stranded in makeshift camps in no-man's-land between Iraq, Syria and Jordan.

Many of them have since been resettled (including a few abroad) and about 3,000 are still in two camps on the Iraq-Syria border.

This item comes to you via IRIN, a UN humanitarian news and information service, but may not necessarily reflect the views of the United Nations or its agencies. All IRIN material may be reposted or reprinted free-of-charge; refer to the copyright page for conditions of use. IRIN is a project of the UN Office for the Coordination of Humanitarian Affairs.