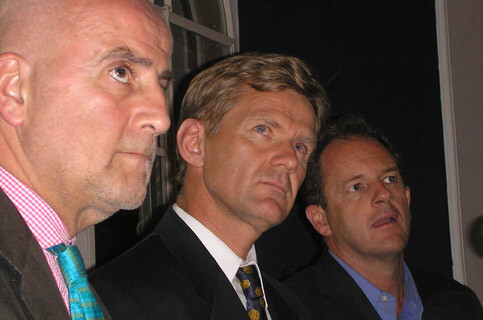 JERUSALEM
— The United Nations has secured agreements with Israel to ship desperately-needed aid into Beirut, the
UN
's Emergency Relief Co-ordinator Jan Egeland said on Wednesday.
Speaking at a press conference in Jerusalem, Egeland said the UN was also negotiating humanitarian sea corridors to bring aid to southern Lebanese cities such as Tyre, Sidon and Tripoli.
"We have agreement for a naval corridor for assistance to Beirut. In principle, we also have an agreement to establish sea routes on a regular basis into Tyre, Sidon and Tripoli."
"We hope for an air corridor into Beirut, but we don't have an agreement for that and there has to be repairs to Beirut Airport first."
However, the agreements appear to be limited. "I don't know when Israel will lift the blockade on Lebanon," Egeland said.
Egeland said he wanted 100 tonnes of aid to be distributed a month to stricken Lebanese in the wake of Israel's devastating strikes on the country.
The first UN convoy of lorries carrying aid left Beirut this morning after the Israeli military was notified in advance. It arrived in Tyre in the afternoon and aid workers began unloading 100 tonnes of medical supplies, water and sanitation equipment, and food.
The UN plans two more convoys on Friday and another on Sunday and Monday. "Our longer term goal is to avoid further mortality from disease and other factors associated with the situation," he said.
Egeland, who has visited Lebanon, Israel and the Gaza Strip, warned that the humanitarian situation in the region would spiral into a "total complete disaster" if hostilities did not stop within a week.
"When we came to the region the situation was horrific. Today it's worse," he said. "I've visited three war zones in four days and it has been heartbreaking. I've seen too many wounded children, too many families without homes, too many thousands of new refugees and too much civilian infrastructure permanently destroyed."
"That is why we are calling for a cessation of hostilities."
Related Links
This item comes to you via IRIN, a UN humanitarian news and information service, but may not necessarily reflect the views of the United Nations or its agencies. All IRIN material may be reposted or reprinted free-of-charge; refer to the copyright page for conditions of use. IRIN is a project of the UN Office for the Coordination of Humanitarian Affairs.