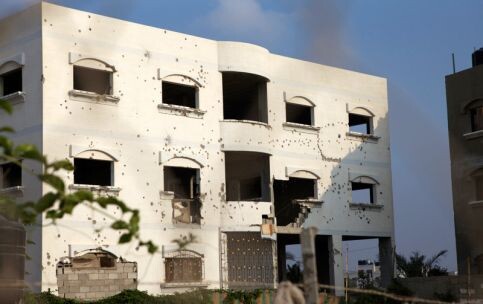 Israeli snipers shot a 17-year-old Palestinian boy on Wednesday, 13 October, as he collected aggregate materials near the so-called buffer zone in the north of the occupied Gaza Strip, according to Bethlehem-based Ma'an News Agency ("Teenager injured by Israeli fire in northern Gaza," 14 October 2010). A medical services spokesperson told Ma'an that this was the seventeenth Palestinian industrial worker to have been shot by Israeli live fire since the summer.

The 300-meter-wide buffer zone is "a military no-go area that extends along the entire northern and eastern perimeter of the Gaza Strip's border with Israel, inside Palestinian territory, as well as at sea," according to the Gaza-based Palestinian Centre for Human Rights (PCHR) in a recent report ("The Buffer Zone in the Gaza Strip (October 2010 Update)," 10 October 2010). PCHR's report states that "[t]he precise areas designated by Israel as 'buffer zones' are unknown; changing Israeli policy is typically enforced with live fire," as Israeli forces have often shot at Palestinians well outside this zone.

In the same report, PCHR documented 47 deaths and 114 injuries from January to September 2010. Gaza's industrial workers have turned to collecting raw materials and rubble around the boundary areas for construction and repair projects, since new materials are still not being imported as a result of the three-year-long Israeli blockade.

This latest shooting comes on the heels of a similar attack also in northern Gaza against Ziad Tamboura, a 27-year-old Palestinian worker who was shot in the leg and foot by Israeli snipers on 7 October in Beit Lahiya near the buffer zone.

Later that same day, the Israeli military carried out several air strikes across the Gaza Strip, injuring a total of eight Palestinians, according to medical sources as reported by Ma'an News ("Gaza leaders say airstrikes aimed at thwarting talks," 8 October 2010).

"Five Gaza residents were injured when Israeli warplanes fired on multiple sites in the central Gaza Strip. Sources in Gaza said two militant training grounds were targeted, as well as Hamas government security buildings," Ma'an reported.

A subsequent air strike targeted a car carrying Ahmad al-Ashkar, an activist with the Popular Front for the Liberation of Palestine's armed wing ("3 hurt in second IAF strike on Gaza …," Haaretz, 7 October 2010). Three Palestinians were wounded and transferred to a nearby hospital for treatment. The Israeli military also struck farmland in eastern Gaza in two additional air strikes.

In the same 8 October report, Gaza-based political analyst Ibrahim Abrash told Ma'an News Agency that "Israel's surge in military activity had three goals: to rid the pressures placed on [US-brokered direct] talks and the settlement freeze, thwart ongoing attempts to secure a unity deal between Fatah and Hamas, and raise the importance of Israel's security issues during negotiations … [Israel seeks to] drag Palestinian resistance factions into a response to justify the withdrawal from talks."

Following the Israeli shooting and air strikes last week, the An-Nasser Salah Ad-Din Brigades, the armed faction of the Popular Resistance Committees, claimed responsibility for launching a homemade mortar shell at a group of Israeli soldiers who invaded the northern Gaza Strip at Beit Lahiya on Saturday, 9 October.