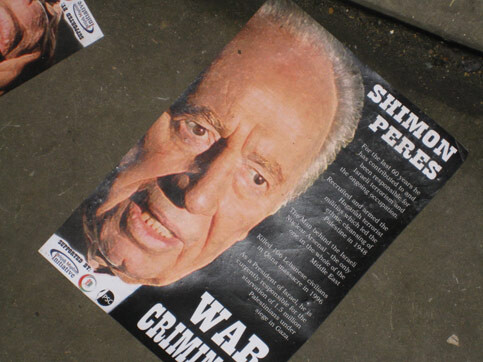 Text messages came from student protestors who had managed to get inside the lecture hall. They let the their fellow demonstrators outside know that their chanting could be heard inside over the voice of Israeli President Shimon Peres. There was clapping and stamping of feet and placards banged on the railings to make as much noise as possible, along with the constant "Free, free Palestine" which did not stop for a moment of the hour-long lecture.

Silent women in black, shouting students, small babies in prams, university lecturers and a local elected official were just some of the crowd gathered to voice their protest against an Oxford college's decision to honor Peres on Tuesday, 18 November as he gave the inaugural lecture in a series to be named after him. Some handed out leaflets and many were carrying signs, one of which read "Globalization of Apartheid," a pun on the title of the lecture, "Globalization of Peace."

After the Master of Balliol College, Dr. Andrew Graham, refused to cancel the series in response to earlier demands, including open letter by students and academics from the United Kingdom and protests from as far away as South Africa, the Oxford University Student Palestine Society in conjunction with the city's branch of the Palestine Solidarity Campaign (PSC) called for the people of Oxford to protest outside the hall as students interrupted the lecture inside.

PSC General Secretary Betty Hunter said she was delighted that Oxford PSC and supporters had shown Peres "that those who condone war crimes are not welcome here." A Labour Party member of Oxford's City Council, John Tanner, said, "I'm here because I think it does Oxford University no good to have the President of Israel greeted and feted this way."
Leading South African academics and veterans of the anti-apartheid struggle had sent a letter to Dr. Graham recalling Peres' role in helping apartheid South Africa procure weapons when it was under an international embargo. "As South Africans whose oppression was fueled by the Israeli state, and certainly Peres himself," the letter said, "we stand in solidarity with Palestinians who, for more than sixty years have lived under Israeli Apartheid."

Despite the decision of British elites to honor the Israeli president, protestors' disgust has reached the eyes and ears of the Israeli public. Even the website of Israeli daily Haaretz showed clips of one particular intervention. Halfway through the lecture, Abdel Razzaq Takriti, a Palestinian graduate student at Oxford's Wadham College, Oxford was ejected from the hall. "Shimon Peres was making a particularly offensive remark claiming that 'you [Palestinians] could have had a state if it wasn't for your own mistakes' and that Israelis fought for their state," he told this writer, who was also participating in the protest. He then stated "We don't need your permission to exist" and got support from other students for it. Takriti explained: "So I stood up and walked towards [Peres], saying, 'how dare you say this at a time when you are besieging 1.5 million people in Gaza? 1.5 million people are starving to death! Shimon Peres, you're a war criminal. You are responsible for the massacre of hundreds of people in Qana [southern Lebanon]. You're responsible for an apartheid state. Shame on you.' so I was dragged out."

As demonstrators awaited Peres' arrival at the hall, there was a scuffle with police who were present in force. Lewis Turner, a student organizer, and another man were taken away with their hands behind their backs. Turner reappeared after a time. According to his account, the police thought he was holding a weapon and wanted to search him, but he managed to convince them that he was only holding a candle as many of the protestors were. Turner said that what was more disturbing was that a man with a darker skin color was walking past him at the time and the police dragged him away as well despite the fact that he had nothing to do with the protest.

Turner, a member of Oxford students' Palestinian Society which helped organize the protest, became interested in Palestine after visiting and witnessing the horrors of the occupation himself. "When I visited in my year off, I found out about what was going on and it was as simple as that."

Before the lecture this writer spoke to a student waiting to hear Peres speak. He explained that he thought Peres was "the voice of moderation" and "one of the few heroes out there at the moment." He said Peres was a symbolic figure with no power. However, asked to comment on specific events such as the April 1996 massacre in Qana, Israeli-occupied southern Lebanon, the student replied that he "didn't actually know about that." Israel shelled a UN peacekeeping base killing over 100 Lebanese refugees seeking shelter from an Israeli invasion ordered by Peres, who was Israel's prime minister at the time. A UN investigation conducted by a Dutch general and artillery expert found Israel's claim the shelling was accidental to be not credible.

At about 9pm, there were still fifty or more people three hours after protestors started gathering. The lecture was over and there were boos and hisses as Peres was driven away. He had completed his lecture and was attending parliament the next day (where the PSC had organized another demonstration) followed by an honorary knighthood from the Queen. It is safe to say that Peres and Balliol can't avoid the fact that his visit was not the smooth-running success they might have hoped and was definitely not supported by all. Oxford proved that, as protestor Mick Scott said, "If you take an interest in people, you can't avoid what is happening in Palestine."

Images by Abigail Humphries.

Abigail Humphries is a resident of Oxford.