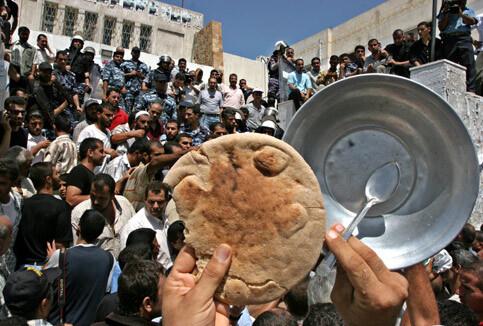 With the new school year beginning in just a few days, 70 per cent of Palestinians in the Gaza Strip cannot feed themselves without assistance, a 30 per cent increase in the number in just over a year, the United Nations World Food Programme (
WFP
) said today.
The Gaza economy is near total collapse and WFP, which this month increased the number of people to whom it is providing food by 25 per cent to 220,000 persons, will try to add more beneficiaries since the situation was deteriorating on a daily basis, spokeswoman Christiane Berthiaume told a news briefing in Geneva.
Overall, half of the Palestinians living in the occupied territories of Gaza and the West Bank are unable to feed themselves without assistance, she added.
Earlier this year Israel stopped the transfer of Palestinian value added taxes (VAT) and other countries suspended contributions to the Palestinian Authority (PA) following the Hamas election victory in January.
International donors have called for Hamas to commit itself to principles of non-violence, recognize Israel's right to exist, and accept previous agreements and obligations, including the UN-backed Roadmap plan providing for two States living side by side in peace.
Related Links