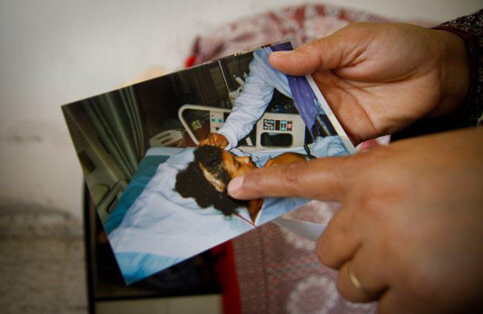 Touching the old scar on her forehead, 14-year-old Samah Owda fought back tears while telling her story. For the past four years she has carried on, proving that internal wounds are sometimes more difficult to heal than external ones. As a 10-year-old girl she was given a "new life" and a chance that at the time no one thought would be possible.

On 15 December 2004, Samah was shot in the head by an Israeli sniper while was playing with her cousins on the balcony of her home in the Gaza Strip. Describing the shock she felt when she was first told what happened, Samah's mother Nawal says she was visiting her relatives near by when Samah was shot: "When someone tells you that your daughter has been shot and killed it is extremely hard. But to see her blood on the balcony where she was just playing is like ripping your heart out. I ran back [home] like a crazy person, thinking she was dead. She bled severely for a while and we all thought that was it!"

As she spoke, Nawal exchanged sad glances with her daughter before tears started streak both of their faces. Squeezing her hands and drying her tears, Samah described what happened. "The only thing I felt was my head hitting the floor, and what happened before and after was just a blurry nightmare I can't remember anything about. That's probably the hardest part — not remembering. Now I walk and talk normally but when I think about it something isn't right."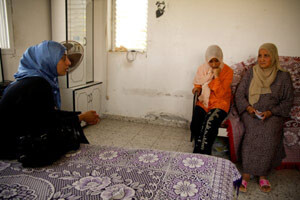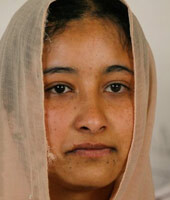 She added, "I had to go back to school as though I was in first grade. I had to start living life again. I can only thank God for giving me the strength to do it. There were times when I had no idea why or how I survived. However, now I feel just normal. I limp a little but I'm working on that too, it gives me such hope and inspiration when people ask about what happened and I just see that look of admiration on their faces when they know — it's like they are proud of me and they don't even know me!"

Samah had to go to the United States for treatment and medication not long after she was injured and she was eventually able to talk and walk again. As for her dreams for the future, she is determined to become a doctor to help those in need. She explained, "Someone will always need help and I want to be there to give for the people who need it — just like I had doctors and nurses to help me when I was considered to be dead."

However, Israel's constant bombardment of Gaza frequently brings Samah back to that terrible day. During Israel's invasion of Gaza last winter, Samah relived the horror of the day she was shot again when the Israeli military started to fire randomly at her house and neighborhood. Her father Moeen explained, "Her eyes were wide open; she didn't talk to me or to her mother. We started to worry because she didn't show any signs of fear. She didn't even move, for days after [the attack] she stayed in her room not talking to anyone. Finally, I decided to talk to her. She only said one thing that left me feeling paralyzed and helpless: 'Why didn't you leave me to die?'"

Moeen added, "[The] doctors said it would be only normal for her to bury the horrible memories and try to move on, but that it would take some time. We all started to deal with [her injury] after the war even more than before it. Rebuilding your life isn't easy but with Samah's dreams, I believe anything is possible "

Samah added, "Now I don't have fears or regrets. I want to live my life as an ordinary girl." With a laugh, she added, "Maybe even an extraordinary one!"

All images by Eman Mohammed.

Eman Mohammed is a Jordanian-Palestinian freelance photojournalist and reporter based in the Gaza Strip since 2005.