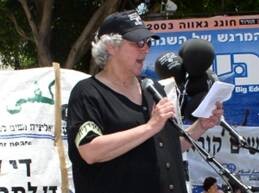 In what may have been one of the most moving moments of protest in Israel, hundreds of women and men wearing stark black lay down outside the Cinematheque in Tel-Aviv, completely covering the large plaza in front of the building. At first, it seemed too hot to attempt such an act — exactly at 12 noon — and first efforts to lie flat on one's back seemed a misguided idea. But then the unaccompanied voice of Reem Telhami began its chant, the haunting harmonies reminiscent of the call of the muezzin during Ramadan at dawn before the sun has risen, and soon there was utter silence. I lay there, too, the heat pressing against my arms, back and legs, my eyelids luminescent with sun, and soon I too was inside Reem's deep, mournful lament. "In loneliness and tears", she sang three times, each more tender and plaintive than the last. As the last strains evaporated into the air, I could feel my face wet with those tears.

So began today's demonstration of the Coalition of Women for Peace, marking 36 years of Israeli occupation, calling for its end and an end to the killing that has enveloped our lives. How can this still be happening to us? Haven't 36 years been enough?

The speakers alternated — Jews and Palestinians from Israel, two Palestinian women from the territories, and one woman representing the internationals who risk their lives in an effort to intervene nonviolently. Dalit Baum, feminist Jewish activist, opened by showing the connections among all the forms of violence — occupation, poverty, brutality against women — through their common roots. Suher abu-Uksa Daoud, a Palestinian writer doing her doctorate at Hebrew University, spoke of how her own life moved from anger to peace activism. Yali Hashash, a feminist defender of Mizrahi rights among Jews, challenged us to examine our commitment to justice, and pay a solidarity visit to the protest encampment of impoverished Israelis in Tel Aviv.
Flo Razowsky a

U.S.

peace activist with the International Solidarity Movement (

ISM

), told how the Israeli government is trying to prevent peace and human rights activists from entering the territories, and noted that she is personally struggling to prevent Israel from deporting her. A particularly moving letter written by Cindy Corrie, the mother of Rachel — the American peace activist who was killed by a bulldozer as she tried to prevent the demolition of a Palestinian home — was read out loud and said, in part: "There have been times when I have been quiet because I felt there were others who knew more. But I am no longer intimidated by experts and critics. After all, my daughter had the courage to stand in front of a bulldozer". Shulamit Aloni, former Israeli cabinet minister and outspoken defender of justice and equality, was eloquent in demanding an end to the bloodshed and the dawn of an era of peace.

From the occupied territories, Fadwa Khader of the Palestinian Agricultural Association came to extend her hand in peace. Zahira Kamal, senior official in the Palestinian Authority, and committed all her life to peace, women, and workers, declared "I believe in the power of women. Women are grounded in their awareness of the sanctity of all human beings…I believe we can work together for ending the occupation and that we can live in peace together." Rauda Murkus, Palestinian from Israel, closed with an aching and touching poem.
When all the painful words were used up, Yana and Haya, our Jewish and Palestinian co-moderators, again asked us to lie down on the pavement, and I thought we could not recapture that initial moment. But we lay down again, and Reem began her lament again, and soon I heard a very quiet clapping in response to the weeping in her voice, and a new space was created together, a space where we met the loneliness and tears of Reem's singing with the quiet clapping of our hands. While there was sorrow, we were no longer "locked shut / In loneliness and tears".

As the situation in the territories gets worse; as witnesses are barred from the scenes of violence; as political rhetoric raises expectations and then retracts them; our hopes still lie with the duet of the people, the lament caressed by quiet clapping, the Palestinians and Israelis who have kept their faith, who still reach out to each other inside the pain and wait — and work together — for the lament to end.

Gila Svirsky is a veteran feminist and peace activist

Related Links: