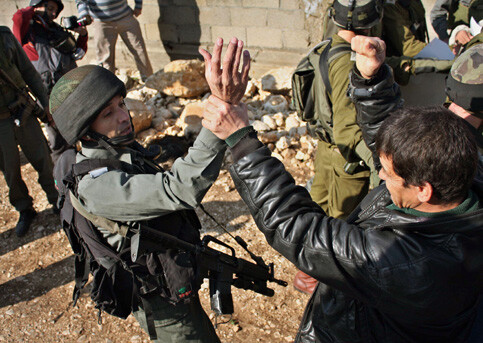 As Israel's relentless bombardment of the occupied Gaza Strip raged on for an eighth day, The Electronic Intifada correspondent Rami Almeghari, via Skype, described how people were coping early Sunday evening in Gaza:
My family is from Karatiya village a few kilometers away from the Gaza Strip in what is now called Israel. Karatiya is one of the 450 towns in historical Palestine that were cleansed by Zionist militias in 1948, displacing my family along with hundreds of thousands of other Palestinians.
I now live in Maghazi refugee camp in the Gaza Strip, which is currently being bombarded by Israel from tanks along the border, American-manufactured F-16s in the sky, and from the sea. Last night Israeli forces invaded the Gaza Strip and heavy fighting is happening in the northern Strip and east of Gaza City.
I have just come back to my computer that I'm using when there is electricity. There are electricity cuts here that are very prolonged throughout the day. I managed use a power generator for my computer when the electricity is out but the generator needs fuel, which is scarce here in Gaza because of Israel has closed the border and everything is locked own right now. Shortly I will run out of fuel to run the generator and stay online; this will be devastating because I am a journalist.
There aren't clashes between the invading Israeli army and resistance fighters in the central Gaza Strip, where I am, yet. We have heard about fighting and clashes in the northern part of the Gaza Strip. We journalists are finding it very difficult to report from the scene of clashes because of the danger. We must avoid danger and risk because we need to keep reporting the truth about what is going on the ground.
There are reports of casualties and injuries as a result of the fighting in the northern Gaza Strip. There are reports that about a dozen Israeli soldiers were wounded, in addition to the soldier and officer who were killed, which was confirmed by Israeli media. This indicates that the resistance is fighting on, including the ruling Hamas party which has been under attack by Israel for the past two and a half years.
In eastern Gaza there were clashes in Shajaiyeh, east of Gaza City. The Israeli army has effectively divided Gaza into two sections, as witnesses in the area confirm. Israeli tanks rolled deeper into the Gaza Strip today and according to witnesses, tanks are present at the former Israeli settlement of Netzarim to the south of Gaza City. Night falls on Gaza as the Israeli shelling on different parts of the Gaza Strip continues. The casualties since the ground invasion are more than 50 killed, unfortunately, and 200 others wounded. Among those killed are approximately 15 women and children.
One of the air strikes hit a house in the al-Tuffah neighborhood of Gaza City, claiming the lives of a woman, a mother and her four children inside their home. In addition, this morning Israeli forces targeted the popular Firaz marketplace close to the Gaza City municipal building. Five were reported killed and at least 15 wounded.
It is being reported that the Israelis are using weapons with depleted uranium. Many medics at hospitals report bruises, burns and fractures in the bodies of the wounded and dead — consistent with these kinds of illegal weapons which are prohibited under international law.
Earlier today I went out into the neighborhood to try to get something from the shop and to talk with some neighbors — really that's what all people in Gaza are trying to do right now. The main roads in Gaza are almost totally devoid of cars and people. People are staying near their houses and leaving only in the case of an emergency.
I found that my neighbors are dealing very patiently with what is happening right now. They don't have any place to go and are staying close to their homes, expecting that the worse has yet to come. However, they are saying that they will remain steadfast in their homeland and neighborhood and homes, even if Israel destroys Gaza completely. These people have been refugees for six decades and this conflict is one of existence — the Israelis don't want the Palestinians to exist and hope they will go to Egypt and Jordan. Refugees recognize this and they are remaining steadfast in their homeland.
One of my neighbors said that even if they destroy Gaza completely there are millions of Palestinians outside and they can simply continue the struggle against the Israeli occupation. I'm not saying this to be sentimental — this is what the people say. People are scared for their lives but they are much more concerned about their existence as a people, their homeland, history and roots in this holy part of the world.
People here are really surprised by the unprecedented demonstrations and protests around the world for the sake of the Palestinian people who are currently under attack. Gazans feel that there will be a light at the end of this dark tunnel. Conversely, people are very outraged about the reactions of governments around the globe.
Rami Almeghari is contributor to The Electronic Intifada, IMEMC.org and Free Speech Radio News and is a part-time lecturer on media and political translation at the Islamic University of Gaza. Rami is also a former senior English translator at and editor-in-chief of the international press center of the Gaza-based Palestinian Information Service. He can be contacted at rami_almeghari A T hotmail D O T com.
Related Links