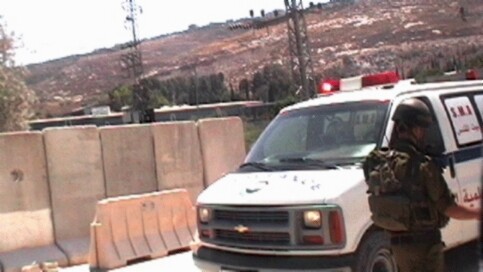 "The blond soldier grabbed his arm and twisted it behind his back, and the other soldier kicked him in the abdomen. Then they told him to lie down on his stomach, and the dark-haired soldier put his rifle to the back of his head and said that he was going to shoot and kill him. The soldier counted to three, and on three, the blond soldier fired into the air. They did the same thing to me."
Today B'Tselem released a report describing a series of cases of severe abuse by IDF soldiers over the past week at the Sarra checkpoint, next to Nablus.
B'Tselem's checkpoint monitors took testimonies from ten Palestinians who were assaulted between December 27-31 by soldiers serving at the checkpoint. The abuse included a mock execution, severe beatings and tying up the victims. The abuse occurred on a regular basis.
After documenting the first case on December 28, B'Tselem sent urgent appeals to various IDF officials to stop the abuse, remove the soldiers from the checkpoint and initiate investigations. In spite of these appeals, the abuse continued all week.
The IDF's siege policy, now in force for over three years, has resulted in severe human rights violations at IDF checkpoints. The IDF has failed to prevent grave incidents such as those documented in this report. The report argues that these cases are the direct and unpreventable result of the IDF's sweeping and destructive siege policy, manifested in hundreds of physical obstacles and dozens of staffed checkpoints preventing movement within the West Bank.
B'Tselem therefore calls for the removal of checkpoints inside the West Bank.
Until they are removed, B'Tselem calls upon the IDF to immediately remove the soldiers serving at the Sarra checkpoint; to open Military Police Investigations and bring to justice all those responsible for the incidents described in the report; to open Military Police Investigations into all cases in which soldiers harm Palestinian civilians.
To download the full report (Word) click here.
Related Links: