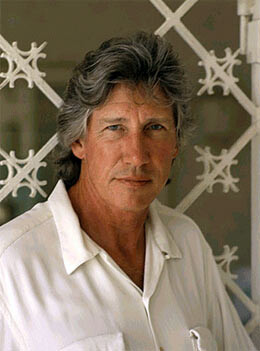 Ramallah — Reiterating his opposition to the Israeli occupation and expressing his support for the Palestinian people in "their struggle to be free," the internationally renowned rock star Roger Waters has announced that he is relocating his Israel performance in recognition of the problematic nature of the previously planned Tel Aviv venue, particularly at a time when Israel is escalating its repression and apartheid designs to further dispossess, ghettoize and ultimately ethnically cleanse Palestinians from their homeland.
The former member of Pink Floyd and the writer of its timeless song "Another Brick in the Wall" called off his Tel Aviv gig, heeding an appeal by many Palestinian artists and cultural organizations and their supporters around the world who feared such a performance, particularly by a respected and progressive artist like Waters, would have given legitimacy to Israel's colonial Wall, condemned as illegal by the International Court of Justice at The Hague in July 2004.
Supporting the Palestinian letter to Waters, a group of Israeli refuseniks (conscientious objectors to service in the occupation army) also appealed to Waters to either cancel the Tel Aviv show or dedicate it explicitly to the struggle against Israel's military occupation.
Waters has been unswerving in his condemnation of Israel's Wall, which he blames for inflicting poverty and devastation upon the Palestinians in the Occupied Territory. In his press statement announcing this telling change of venue, Waters writes: "The suffering endured by the Palestinian people during the Israeli occupation of the last 40 years is unimaginable to us living in the west and I support them in their struggle to be free. I have moved the concert to Neve Shalom/Wahat al Salam as a gesture of solidarity with those voices of reason, both Palestinian and Israeli, that seek a nonviolent route to a just peace."
By calling off the Tel Aviv gig, Roger Waters has reconfirmed his commitment to freedom, equality and peace based on justice. Indeed, Waters's moral compass has proven to be not only live but pointing in the right direction as well.
Reacting to the news, Palestinian civil society has warmly saluted Roger Waters for his courage and for his valuable contribution to bringing down all walls of oppression and subjugation, Israel's Wall of shame included.
Related Links