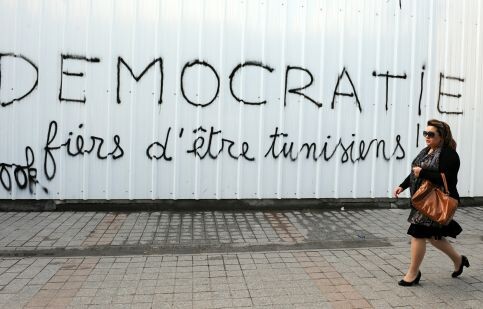 I am not a big fan of Tunisia's Prime Minister Mohammad Ghannouchi. His name is reminiscent of deposed President Zine El Abedine Ben Ali's autocratic regime, and of the interim government's riot police's recent attack on sit-in protestors in Tunis's Qasbah Government Square when all eyes were focused on Egypt ("Let's not forget about Tunisia," Jadaliyya, 30 January 2011).

Yet, I very much appreciated some of what Ghannouchi had to say last Friday, 4 February 2011, to journalist Piers Morgan on his new CNN show Piers Morgan Tonight. Here is an excerpt:

Morgan: Mr. Prime Minister, can I ask you, have you been surprised by the events in Egypt and do you believe that President Mubarak should now go immediately?

Ghannouchi: We are worrying about our own country. Our revolution is unique. It was caused by the young. Facebook and Twitter were the levers. It's been held in a peaceful way. Today we were able to break with the past thanks to what we have in our DNA. Tunisia, as you know, is an exporting country, but we do not pretend that we export revolutions.
Clearly, Ghannouchi deserves credit for his funny evasion of the question. His tactful reluctance to comment on Egypt's internal affairs, however, matches only the condescending dismissal with which both Hosni Mubarak and his newly appointed vice president, Omar Suleiman, commented on Tunisia's glorious revolution.
In his late night speech on 28 January 2011, following the popular demonstrations in Egypt, Mubarak pointed out that "Egypt is the biggest country in the region in terms of population, leadership role and weight. It is a state of institutions, governed by the constitution and the law." After establishing Egypt's regional superiority, he briskly moved on to dwarf, at least by implication, the grassroots revolution in Tunisia: "We should guard against the many examples around us in which nations slid into chaos and suffered setbacks. They neither achieved democracy nor maintained stability."
While this is an obvious jab at the otherwise laudable process of homegrown democratization in Tunisia, Mubarak's stance on Tunisia remains confused and confusing. On the one hand, he seems to maintain that Egypt is impervious to regional unrest because of its well-established democratic governance; on the other, he warns against the contagiousness of the grassroots democratic process in Tunisia because it neither brought democracy nor assured stability. The implication is twofold: first, deep down Mubarak does not believe Egypt is a democracy; second, he urges Egyptians to forego democracy for the sake of stability.
Like many Arab despots in the region, Mubarak wants to belittle Tunisia's revolution, not because he did not recognize its influence, which would be inexcusable, but because he apprehended its exemplarity and potential repetition in Egypt. Hence his staunch desire to tarnish it and thus guard against the revolutionary course it set in motion in the whole region.
This attempt to smear and contain the Tunisian example became even more vocal and explicit recently at a time when the Egyptian revolution has been well underway.
In an interview with ABC's Christiane Amanpour on 3 February 2011, Egypt's Vice President Omar Suleiman doubted that what happened in Tunisia would ever happen in Egypt. "No, Egypt will not be anything like Tunisia," Suleiman told Amanpour before he went on to add: "This is different. You know that our president is a fighter. He lived on this soil and he will die on this soil."
While every Arab is proud and envious of what Tunisians achieved, and while Egyptians have been actually inspired by the Tunisian example and are clamoring for freedom and democracy in their own way, Mubarak and Suleiman are warning us and reassuring themselves that Egypt is not Tunisia.
They may be in a state of denial or disavowal; they may be simply inebriated by wishful thinking or fantasies of omnipotence, but they do not realize yet that the Tunisian revolution has more of a chance of defeating them than they have of defeating the course of history it set in motion.
Egypt is not Tunisia, Mubarak is not Ben Ali — yes, but who is being insulted and who is being exalted here? Mubarak and Suleiman may be insulting Ben Ali and Tunisia and undermining Tunisians as well as Egyptians, but they cannot do that unless they have already, at least subconsciously, elevated themselves to the real embodiments of Egypt and Egyptians.
If, however, Egypt wants to become Tunisia and the will of Egyptians is to do what Tunisians did, then Mubarak and Suleiman are just mollifying a consuming anxiety by exposing it in public. They could even be enjoying their symptoms, one might argue, given their callous disregard for Egyptian lives in the wake of Mubarak's latest speech, in which he vowed to remain in power till the end of his term. If so, the debacle in Egypt might better be resolved by a psychiatric intervention rather than by the Egyptian army, whose stance so far has neither been decided nor decisive. All the more so given that General Hassan Ruweini is simply no Rachid Ammar: while the latter is famous for having refused orders from Ben Ali, the former failed even to protect the protestors when they were attacked by Mubarak-sponsored gangsters.
At any rate, what Mubarak and Suleiman have said about Tunisia is a travesty of diplomacy, irresponsible and disrespectful to both Tunisians and Egyptians alike as well as to the memory of the martyrs of freedom and democracy in both nations. Mubarak and Suleiman are not worthy of the bright page of history that both Tunisians and Egyptians are writing. When all is said and done, they will undoubtedly be thrust into the dustbin of history.
What Ghannouchi said to Piers Morgan, however, constitutes a diplomatic lesson and, possibly, a subtle slap on the faces of both Mubarak and Suleiman. What I would have wanted him to say is that "Tunisia is known for exporting olive oil and deglet nour dates but is pleased to add revolution as one of its principal items of export." Revolution will be Tunisia's only around-the-clock and never-out-of-stock, free-of-charge export item. It is its only Marshall Plan for fostering homegrown democracy across the Arab world. Let it be so.
Nouri Gana is Assistant Professor of Comparative Literature and Near Eastern Languages and Cultures at the University of California, Los Angeles. His book, Signifying Loss: Toward a Poetics of Narrative Mourning, was just published by Bucknell University Press, 2011.
Related Links