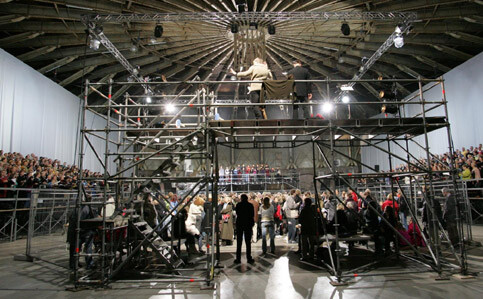 The Culture Park Westergasfabriek in Amsterdam provided a natural setting for an unique performance of The Shouting Fence. This musical expression of emotions about the Separation Wall built in the occupied Palestinian territories was performed by at least 1,500 voices. They include The Shout, a professional choir directed by Orlando Gough and Richard Chew, and the Exile choir, Trajecti Voces, Utrechtse Studenten Cantorij, Childrens' choir De Kickers and four hundred singers from various choirs and individuals performed The Shouting Fence.

"In the shadow of the wall, in the shadow of the wall, we are waiting, we are waiting for peace, we are longing for peace." First on soft tone, whispering, then becoming louder and louder, hundreds of voices shouting. Between what resembles concrete parts of the wall and the audience in the middle, between a fence and barbed wires, on two sides of the arena two large groups of singers shout, sing and whisper.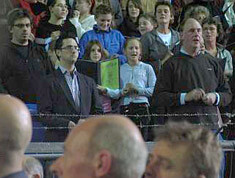 Shouting Fence is a vocal story of a community split in two. The story is based on Majdel Shams. Following the 1967 war, Israel occupied and illegally annexed the Syrian Golan Hights. Israel decided to cross the valley into two parts and to prohibit any communication and any access to the Syrian community residing on the other side of the valley. The families separated by this border have called it the "shouting valley," because it is the single mean which they have to communicate.
On the Syrian side a platform has been built that can accommodate about 200 people. Across the cease-fire line, in front, about 110 meters away, is the bustling town of Madjal Shams. The residents from the village of Haddar on the Syrian side and the residents of Madjal Shams across the fence, shout to each other through handheld microphones. A lone UN post stands about 50 meters from the platform.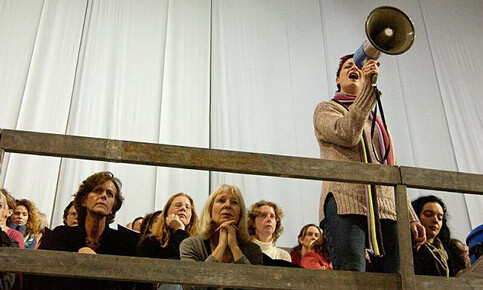 The reality of this piece in 2004 is striking. Soon Israel will complete the construction of the wall built in the occupied Palestinian territories. The wall will leave Palestinian families marooned. Villages and towns will be almost completely cut off. Despite the International Court of Justice ruling that the wall be torn down, construction is steaming along. Palestinians have lost contact with their loved ones, access to their land and lost their work.

When completed, close to 200,000 Palestinians will find themselves trapped in enclaves or closed military zones, with devastating consequences for their households. Their freedom of movement is severely restricted, making it impossible for many to get to their work places, schools or hospitals. Several thousand Palestinians have already been displaced by house demolitions, land confiscations and the effective cutting-off of towns and villages since the construction works began in 2002.

Shouting Fence portrays the feeling of a need to communicate, mutual love and the feeling of frustration not being able to connect. The eleven songs, written by famous Palestinian poet Mahmoud Darwish, famous Syrian poet Ali Ahmad Sa'id and Orlando Gough, who also composed the music together with Richard Chew, provided a range of solo and full choir pieces.

The overall performance was directed by Peter Maissan, who regularly directs various productions with large groups. Orlando Gough is one of the most important British contemporary composers of ballet, theater, film and choir music. In 1999 Gough and Chew got inspired by a picture of a Syrian woman with a megaphone. In eleven parts it becomes clear what it means to be separated and still having the need to communicate.

It's not strange that The Shouting Fence is to a large extent based on poetry written by Mahmoud Darwish and Ali Ahmad Sa'id (also known as Adonis). Both poets were leaders of comtemporary Arab poetry and both have written extensively about exile. They both use simple vocabulary and plain, recurrent images: an olive tree, shadow, desert, chains, lovers.

From Darwish' Diaries of a Palestinian wound, earlier performed and composed by Lebanese singer Marcel Khalife, the choir sang: "My homeland is not a suitcase and I am not a traveller. I am the lover and the land is the beloved. Our departed are the candles for the people to move in the night."

The venue, De Gashouder (Gasholder), a 3,000 m² structure on a former gas works complex, was the perfect location for this event. Two big choirs on each side, separated by barbed wire fences, 20 meter from the audience. In this way, the audience directly experienced the attempts of the choirs to connect with each other. The audience represented the wall and barrier. From three sides, the two big choirs on either side and the exile choir in the back, voices sang together and alone, mixed and towards eachother. Being the wall, one can hear the frustrations, the urge to meet and greet, to communicate and interact.

The intention was to make the audience feel what the wall emotionally does to communities when they are separated. Shouting Fence makes the audience understand that the wall is divisive and destructive. It also showed that whatever barriers are made, human beings will always find ways to connect.

Related Links