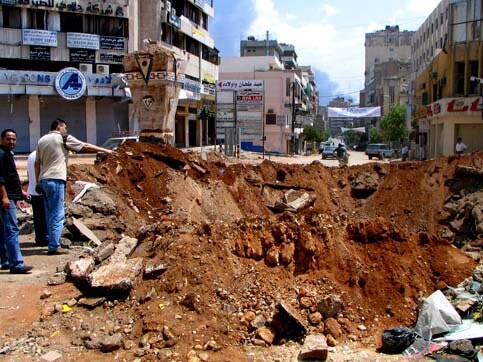 The shelling in Lebanon has gotten worse since Israel began attacking a couple of days ago. I've been watching whatever footage I can of my father's homeland in its current state, only to find that bombs are landing in front of a statue my uncle built, on the roads I drove on just a year ago, in a neighborhood where I lived three months out of the year, and in the villages where my aunts and their families live.

I've been speaking to my cousin in Dahiyeh (the Beirut suburb where most of the bombing is now taking place), the following has happened over the last few days:

The roads, bridges and overpasses of the south have been bombed to the point where the entire area is debilitated. Villages are cut off from each other, and from main cities. The electrical plant in the south was bombed early on so hundreds of thousands of people have been without electricity during the hottest time of the year.

The smallest of bridges (like the one that links our village, Arab Salim, and the main road) have been bombed. Hospitals are few and far between, only within the three or four main cities of the South such as Sidon and Tyre. Both cities are now experiencing heavy shelling. The number of civilian deaths rises every hour.

In an attempt to escape the bombing, people from southern villages have begun walking towards the main highway with their families and what few personal belongings they are able to carry. My grandmother and extended family are trapped in villages throughout the South. I (like millions of Lebanese around the world) have had no way of contacting loved ones in the south since things intensified yesterday. They have no access to cell and land-line phones since there is no electricity to charge them.

In two separate attacks, the airport runways and fuel reserves were hit, shutting down international flights. Any entry/exit point of the country is either blocked or destroyed. Even small military air bases have been bombed. The highway that links Syria and Lebanon has been destroyed in several places, while Israeli military ships are blocking all docks and using them to bomb the country. This attack has been executed at the height of the tourist season, when thousands of Lebanese from abroad return for the summer to visit their families.

Dahiyeh, Beirut, an area smaller than lower Manhattan, was hit with shelling from Israeli war planes a dozen times in the span of two hours early this morning. My cousin, her husband and their one-year old son live half a mile away from the airport and a few blocks away from the television station that was bombed. When I spoke to her today, it was 4:00 am in Lebanon and the shelling was just a couple of blocks away from their apartment. Dahiyeh, which is predominately Shia Muslim, is one of the poorest neighborhoods in Beirut and is near Palestinian refugee camps. The streets are narrow and apartment buildings lie practically on top of each other. Several elementary schools and daycares are located in the neighborhood; it is one of the most densely populated areas of the city.

Residents are unable to leave this Beirut suburb; any vehicle moving about the neighborhood is an open target for Israeli planes. No one sleeps for fear of shelling, and many residents have sought refuge with neighbors who have apartments on the lower levels of buildings. In my cousin's building alone there were at least forty people (children and adults) seeking refuge in the two one-bedroom apartments of the first floor. Because the neighborhood is in the city and built without any urban planning during the civil war, there are few bomb shelters (I personally have never heard of any existing).

Those able to seek refugee in the North have been warned that no area of Lebanon is safe. Israel has been bombing the northern part of the country as well. All of Lebanon is being held hostage by this vicious military attack. As of 11:00 am this morning, the electricity in Beirut was cut. Lebanon's population of over five million people includes a substantial demographic of Palestinian refugees and an increasing number of Iraqi refugees. In the span of time it has taken me to write this, most Lebanese phone lines are now dead, and I have no way of locating any member of my family.

Related Links

Maymanah Farhat is an art historian and specialist of modern and contemporary Arab art. She has lived three months out of the year in Dahiyeh and Southern Lebanon for the past twelve years. She is now based in New York.