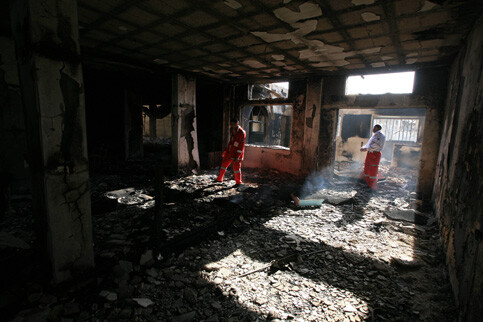 Al Mezan Center for Human Rights published an English-language version of the report "The Targeting of Medical Centers, Ambulance Teams and Civil Defense Teams during the Israeli Offensive 'Operation Cast Lead' against the Gaza Strip." This report reviews the systematic targeting of medical centers, ambulance teams and civil defense teams and the obstruction of their work between the period of 27 December 2008 to 18 January 2009. The report also presents material and human losses sustained by the emergency services during this period.
The report demonstrates that 23 emergency service personnel were killed, 17 of whom were on duty at the time, and 50 emergency service personnel were injured during the offensive. In addition, 39 ambulances, emergency vehicles, field hospitals and civil defense vehicles were damaged or destroyed. A number of health premises, ambulance and emergency centers and civil defense premises were damaged or destroyed.
Evidence presented in the report — which is based on field investigations and witness testimonies — demonstrates that the Israeli Occupation Forces (IOF) deliberately shelled and bombed ambulances and ambulance crews that were attempting to evacuated the wounded and sick from areas under fire. This resulted in the killing and injuring of a number of ambulance team members. In addition, a large number of sick and injured people died, many of whom bled to death, due to the refusal of the IOF to allow their evacuation.
Israeli Occupation Forces also opened fire on individuals from the civil defense, including those that were attempting to extinguish fires ignited by Israeli bombing and shelling, and especially through the use of highly flammable white phosphorous shells used by Israeli forces on a wide scale during its offensive.
Evidence presented in the report demonstrates that the IOF systematically violated the rules of international humanitarian law and human rights law that apply during times of armed conflict. The actions of Israeli forces during the offensive constitute grave violations the Fourth Geneva Convention and especially the articles related to the protection of civilians in time of war, stated in articles 15, 16, 17, 18 and 19 of the Convention. These articles give special attention to the organization of healthcare services and hospitals. Article 20 emphasizes the necessity to respect and protect individuals searching for civilians, the wounded, the sick, the elderly and maternity cases, and attempting to evacuate and provide care for them. Article 63 states that relief organizations such as the Red Crescent are able to work under legal protection.
As well as obstructing relief teams' access to the sick and wounded, and those stranded in their homes, the IOF did not fulfill their duty to provide medical care and relief to them. Civilians were left for long periods of time without care in cases where the Israeli forces were aware of there presence.
In this report, Al Mezan Center for Human Rights calls on the international community to bring to an end Israeli's gross violations of human rights and international humanitarian law and to hold to account those who ordered and/or perpetrated such violations. It also calls on the High Contracting Parties to the Fourth Geneva Convention to act to stop continuing Israeli war crimes against Gaza's civilian population and to convene an urgent conference to examine the necessary measures that must be taken when a signatory to this Convention neglects its commitments. Al Mezan emphasizes that the High Contracting Parties must go beyond calls for action, but take effective action to stop escalating war crimes and to protect civilians.
Download the full report [PDF]
Related Links