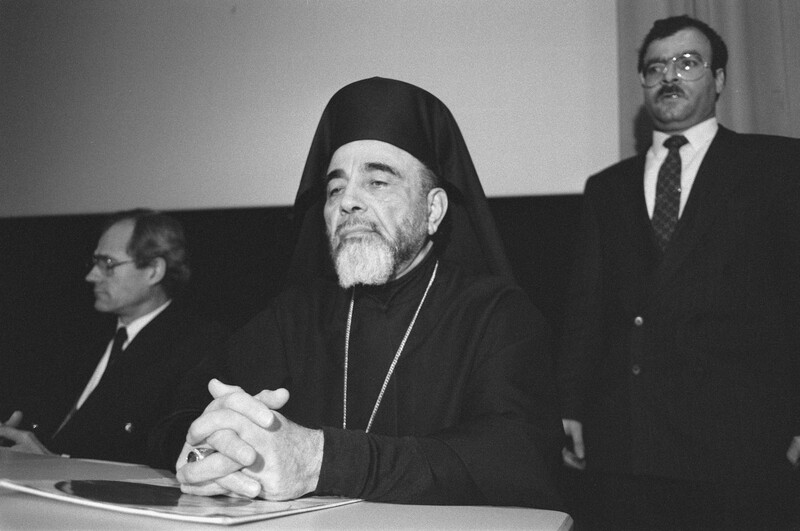 Hilarion Capucci, the exiled Melkite Greek Catholic Archbishop of Jerusalem who was also known as the "Archbishop of the Arabs," died last week in Rome aged 94.
Capucci dedicated his life to defending Palestinian rights but was politically active across the Middle East. Iraq, Libya, Sudan, Egypt, Syria and Kuwait issued postage stamps in his honor. In 1979, Pope John Paul II dispatched him to Tehran to discuss concerns the Vatican had with the new Islamic revolutionary government of Ayatollah Ruhollah Khomeini, including the closure of Catholic schools.
Capucci also played an active role during the Iran hostage crisis beginning in late 1979, paying several visits to the American hostages and negotiating an agreement for their release that only collapsed at the last minute because of a leak in the French press. He did succeed in securing the release of the bodies of American soldiers who had died in the failed rescue attempt and Capucci told this writer that he received a letter from President Ronald Reagan thanking him for his efforts.
But it was Palestine for which Capucci had a special passion. In 1974, he was convicted by an Israeli court of smuggling weapons from Lebanon to Palestinian resistance groups under cover of his diplomatic status.
He denied all charges, but the Israeli military said it had found weapons in his car. He was sentenced to 12 years.
His was one of the prisoner releases demanded by those who hijacked a plane and diverted it to Ethiopia's Entebbe airport in 1976. But it would take papal intervention and a new Israeli government before he was released in 1977.
For God and Palestine
Exile in Rome did not curtail his advocacy against the Israeli occupation and for Palestinian rights. "God is truth and the Palestine plight is truth," he told me in 1995 over lunch in the University of London's School of Oriental & African Studies cafeteria. "To fulfill my religious duties this tormented people must be represented," he insisted.
"The Archbishop is nothing but a shepherd," he explained during a lecture in Washington, DC, in 2009 hosted by the American Arab Anti-Discrimination Committee, ADC. "When a shepherd sees a wolf approaching, he sacrifices his life in defense of his flock. My flock is the tormented Palestinian people."
"Mark your records," Capucci told his audience, reciting a Mahmoud Darwish poem: "I am an Arab." He continued: "Each Arab country is my homeland. I share with them their joy and their sadness. This is my message, nationally. This is my creed, religiously."
In 2010, Archbishop Capucci was an active participant in the Gaza Freedom Flotilla that tried to break Israel's siege on Gaza. He was aboard the Mavi Marmara that was intercepted and boarded at sea by the Israeli navy, leaving nine people dead and a 10th fatally injured. He was arrested and deported.
Archbishop Capucci was born in Aleppo, Syria. He was ordained into the priesthood at the Saint Anne Seminary of Jerusalem in 1947. In 1962, he was elevated to the Superior of the Basilian Order of Aleppo. Shortly thereafter he was raised to the Titular Archbishopric of Caesareum (Palestine) and became Archbishop of Jerusalem in 1965.
In 1977, Pope Paul VI appointed him pastoral visitor to South America and in 1979, Pope John Paul II appointed him as pastoral visitor to the Melkite communities in Western Europe.
A constant presence
But his congregation in Jerusalem, the cradle of Christianity, was a constant presence in his advocacy. "Israel is erasing its Christian character, its sacred nature. Our Jerusalem has become obliterated and effaced. It is fading away," Capucci warned the packed lecture hall in Washington, DC, back in 2009.
Capucci was an eloquent orator steeped in Biblical literary tradition, symbolism and Arabic poetry with an anchor in Jesus's social justice message. Well versed in the Muslim faith, Capucci would recite verses from the Quran verbatim from memory in conversations or lectures.
In closing that 2009 ADC lecture, Capucci prayed to God to be reunited with Jerusalem.
"Oh, it is so beautiful when you reunite and embrace a loved one after a long absence, a long torment. While the minarets recite allahu akbar in rhythm and synchrony with the church bell ringing joyfully calling us to return to our beautiful Jerusalem, to our Masjid al-Aqsa [al-Aqsa mosque] and our Church of the Holy Sepulchre."
Then he recited a verse from the Quran. "Accept this prayer from me for it is you – you who are all-hearing and all-knowing and you have power over all things."
Archbishop Capucci never returned to Jerusalem, but his unwavering dedication to Palestine and his sacrifices inspired generations. For the past 22 years, I spoke with the Archbishop every Christmas and every Eid. Many times he would beat me to the call.
He was very spiritual and prayed most of the day. When he was here in 2009, he stayed in my house. I would take him to the local church and he would pray and read the Bible for hours in his room.
I visited him in the Vatican last year. My parents visited him last month.
Your flock will miss you. All of us will miss you. You were and will always be the Archbishop of the Arabs – Muslim and non-Muslim. May God have mercy on your soul and rest in peace.
Abed Awad is an attorney, expert in Islamic law and an adjunct law professor at Rutgers Law School. He also sits on the national board of the ADC.
Tags