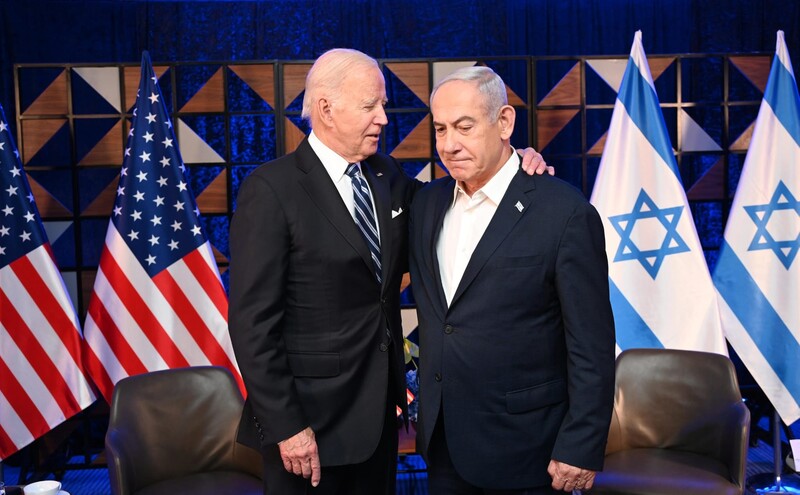 The Biden administration is bringing the Middle East to the brink of a potentially catastrophic regional war.
Signs of a wider conflagration abound. Last month, Israel delayed its ground invasion of Gaza in deference to the US request that Israel wait until America completes preparations for a broader conflict.
Israel and Lebanon's Hizballah have been fighting since 8 October and, on 5 November, their skirmishes escalated when Israel killed four Lebanese civilians – three of them children – prompting a Hizballah retaliation that killed one Israeli civilian.
Since then, the bloodshed has continued, with Israel suggesting it could inflict on Beirut a cataclysm similar to that which it has inflicted on Gaza.
Meanwhile, Hamas' Qassam Brigades say they fired rockets at Israel from inside Lebanon.
Moreover, Yemen's Houthis says they launched ballistic missiles and drones at Israel and promised more of the same "until the Israeli aggression stops."
Israel has repeatedly bombed Syria in the last month, in one instance killing at least eight soldiers, while fighters allied with the Syrian government have shot rockets at the Israeli occupied Golan Heights.
Iraqi and Syrian groups have struck US bases in their countries more than a dozen times, and the US has subsequently bombed Syria. The Houthis also took out a US drone, which the movement said was flying over Yemeni waters and spying on their forces. The US government acknowledged the incident.
The uptick in regional violence is inextricably linked to Washington's unwavering support for Israel's homicidal rampage against the Palestinians. America and Israel's non-Palestinian antagonists are quite clear on this point.
"Your aggression"
The US claims that the attacks on its bases have nothing to do with Israel's murderous onslaught against the Palestinians but, according to The Cradle and to Syrian state media, the Iraqi group Kataib Hezbollah says it carried out attacks against US troops and will continue because of Gaza.
"The Americans are essential partners in killing the residents of the Gaza Strip and therefore, they must bear the consequences."
Similarly, Iranian President Ebrahim Raisi said that Israeli crimes "have crossed the red lines, and this may force everyone to take action."
He said: "Washington asks us to not do anything, but they keep giving widespread support to Israel." The US, Raisi went on to say, "sent messages to the Axis of Resistance but received a clear response on the battlefield."
Hasan Nasrallah, the leader of Hizballah, blamed the US for Israel's murderous offensive against Gaza and said that the American government must rapidly end it if they want to prevent a regional war.
Israel simply would not be able to do what it does to Palestinians and to others in the region, at least not to a comparable degree, without the US' lavish military support and blanket political cover.
"You, the Americans, can stop the aggression against Gaza because it is your aggression."
The US has given Israel roughly $130 billion in military aid since Israel's founding and, in the aftermath of 7 October, Biden requested $14.3 billion in additional assistance to Israel, which has been approved by the US House of Representatives, but not yet by the US Senate.
The Biden administration has gone so far as to say that it wants to be able to conduct arms deals in secret, without scrutiny from Congress or the public.
Such measures render laughable reports that the US is trying to get Israel to dial down its violence but cannot.
Even as the US knows perfectly well that it is provoking pro-Palestinian forces in the Middle East, American planners' actions and rhetoric have been consistently belligerent. Biden has used vaguely threatening language toward Iran, saying that his government has "made it clear" to the Islamic Republic that it should "be careful" and not intervene in Palestine.
Militarizing the region
A White House National Security Council spokesperson said that the US sent its USS Gerald R. Ford Carrier Strike Group, the world's largest aircraft carrier, to the Eastern Mediterranean as "a strong signal of deterrence should any actor hostile to Israel consider trying to escalate or widen this war."
Biden's government has sent public and private messages to Hizballah and Iran through third parties, warning them not to intervene. A US official said Hizballah and Iran responded by saying that they do not want an escalation but that they might have to intervene if Israel continues its military operation in Gaza.
Washington has been clear that Israel can do whatever it wants to the Palestinians and the US will not curtail its support: White House national security spokesperson John Kirby told reporters that Washington is "not drawing red lines for Israel."
What the Biden administration is saying is that it will help Israel kill as many Palestinians as it wants while decimating Gaza's infrastructure and that, if any of the Palestinians' allies become more directly involved in helping the Palestinians defend themselves, America will attack those parties.
The US also appears to be saying that Hizballah has no right to fight back against Israel, even when Israel drops white phosphorous on Lebanon, as it did on 10 October, as Human Rights Watch detailed. Amnesty International would subsequently conclude that Israel used the weapon between 10 and 16 October, unlawfully injuring civilians in the town of Dhayra.
The US is matching its aggressive words with aggressive actions. It has upped its already vast supply of military personnel and hardware in the Middle East. Washington has dispatched a THAAD antiballistic missile defense system and an unknown number of Patriot missile battalions to unspecified locations across the Middle East.
Include two aircraft carrier groups, each carrying approximately 7,500 personnel, two amphibious Navy ships with thousands of Marines and, all told, the US has about 45,000 military personnel based in the Middle East.
Such actions further militarize the region and escalate already stratospherically high tensions, nurturing a climate for a wider war.
To avoid a potentially catastrophic war, the US must rein in Israel, support peace through liberation across all of historic Palestine, compel Israel to withdraw from Lebanon and Syria, while the US itself needs to withdraw from Iraq and Syria, and refrain from interfering in Yemen's affairs.
Absent such steps, the US and its partners might be able to temporarily re-establish something like the 6 October stalemate – with brutal injustice for the Palestinians as its lynchpin – but not for very long. If America continues along its present course and a multinational regional bloodbath unfolds, the Biden administration will be responsible.
Greg Shupak writes fiction and political analysis and teaches Media Studies and English at the University of Guelph-Humber. He is the author of The Wrong Story: Palestine, Israel, and the Media.
Tags