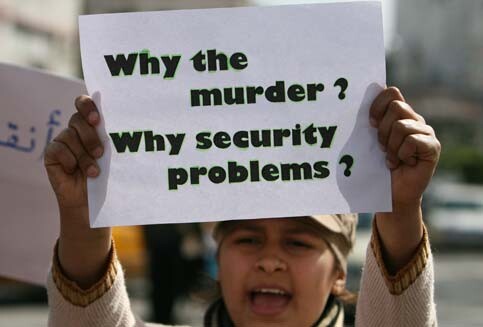 Gaza, February 2007 - "Now life in Gaza is complete" says Um-Salim, a painful sarcasm tinging her words. Um-Saleem speaks as she run s towards the hospital after hearing that camp children were injured during recent factional infighting.
"It is not enough that we have to live in deep poverty and sadness. Now death comes, without warning, to kill our children, our dreams and our hope."
Umm-Salim has four children and lives in Shati refugee camp on the western edge of Gaza City. "I told my children not to go into the streets because the situation is really dangerous. There is shooting everywhere and bullets have no mercy".
Um-Salim is one among thousands of refugee parents afraid to let their children go to school because of the internal fighting raging in the streets. Despite her fears, Umm-Salim admits she is powerless to stop her children's desire to go out and play. "They are children", she says. "If they are not in school, they are full of energy and must do something."
Clashes take place throughout the day, and after dark the nightmare continues, too. "We cannot sleep at night. The sound of bullets and explosions remind us of the Israeli invasions into Gaza. My children are terrified all the time. We don't know what to do".
Amal, a young university student, confirms Un-Salim's fears. "My father swears to God that he will never allow me or my brothers to go to school under these circumstances." Six of Amal's brothers attend UNRWA schools. "He says said that our lives are more important to him than education."
As she speaks, Amal's expression grows wistful. "I love and respect my father, but I miss classes and my friends at school so much! I waited so many years to finally begin university. I want the fighting to stop. I want to go back to school!"
Mahmood Bashir, a 45 year old father of eight from Shati refugee camp stands in his doorway, nervously looking down the alley. "Instead of going to school to learn something useful for their future, children are out in the streets now." Pointing to house after house on the narrow alleyway, Bashir counts five children here, nine children there, another six after that. "Our street is packed of children."
"UNRWA had no choice. It had to close its schools in order to protect the lives of children," Bashir continues, his frustration mounting. "But our children have missed so many days of school due to Israeli military operations! Now they will miss even more."
"No matter how much I sacrificed in my life so that my children will have a better life… Now I see that education, progress, is forsaken. As a father and as a Palestinian, I am sad and angry." Bashir turns away. "What can I achieve today? To prevent a bullet from hitting my child? Where can I find hope in that?"
Related Links