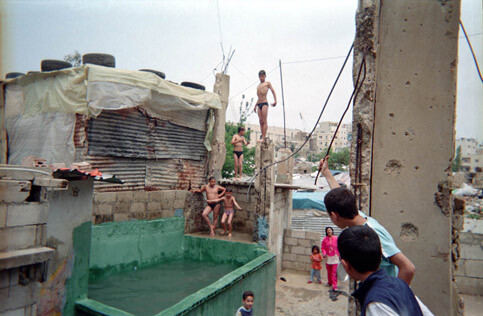 BEIRUT

(

IRIN

) - A photograph of the sea, perfectly framed by the ragged window of a gutted building, illustrates the contrasts of Lebanon. Hanging in Medina Theatre as part of an exhibition in Beirut's fashionable Hamra district, it could easily be the work of a professional.

But the photographer is seven-year-old Manah Moustafa Diab from Rashidieh refugee camp, one of the 12 camps for Palestinian refugees in Lebanon.

The picture, along with the 70 others that make up the exhibition, and accompanying book Lahza (meaning "glimpse" in Arabic) are the result of a project run by Lebanese non-governmental organisation (NGO) Zakira aimed at highlighting the conditions of Palestinian refugees in Lebanon.

The organizers selected 500 children between the ages of seven and 12 on the basis of their creative potential, gave each a disposable camera, and told them to go and document daily life in the camps.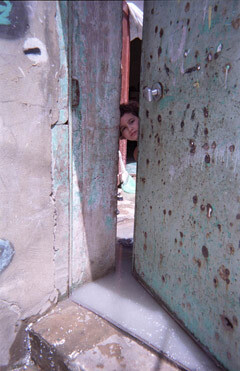 "The selection process wasn't always based on who the best artist was," said project co-ordinator Rima Abu Shakra. "It was more about getting a sense of the child's mindset and creativity."

The children were given some basic training in photography before being let loose with their cameras for two weeks. "Most of them had never held a camera before," Abu Shakra said. "The only guidance we gave them was: 'try to put people in the picture,' and, 'if you were showing someone what life was like in your camp, what would you show them?'"

Take your pick

The results are testament to both the creativity of the budding photographers and the harsh conditions facing Lebanon's estimated 400,000 Palestinian refugees. In one photo, by eight-year-old Abdullah Nazir al-Kayyim, five young girls play Ring a Ring O'Roses in a narrow, dark alley in the Ein al-Hilwe refugee camp, reputed to be a hotbed of Palestinian militancy.

In another picture, four smiling teenage boys lounge in a swimming pool. But the image of luxury is undercut by the fact that their pool is a disused concrete tank in the Shatila refugee camp.

Another photo, by 12-year-old Soubheih Ahmed Loubani, shows three bored-looking boys standing on a pile of rubble in the Nahr al-Bared refugee camp — the camp gutted in the 2007 conflict between Fatah al-Islam and the Lebanese army — against a backdrop in which every building has been devastated.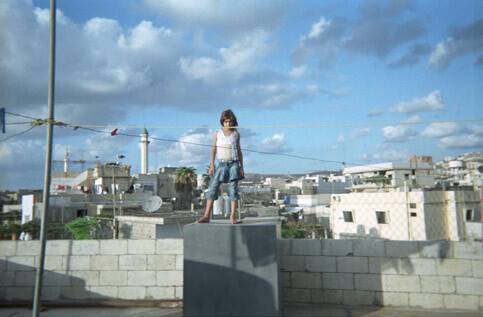 Eight-year-old Mahmoud Hassan al-Doukhi, from Rashidieh refugee camp, breaks off from excitedly discussing the exhibition at Medina Theatre with his friends to tell

IRIN

about his featured photo — a picture of a boy on crutches supported by a girl on each side.

"It was difficult because I took it at a sensitive moment," he said. "The person in the middle can't walk. I took the picture to make him happy, and not to make him feel alone."

Twelve-year-old Farah Abou al-Shabab, also from Rashidieh refugee camp, explained the thinking behind a domestic scene in which a sick-looking man stares wanly at the camera.

"I took a photo of a man who has two very dangerous diseases," she said. "The doctors say he may die. I took it to show the world we have difficult things in our camp, like diseases and poverty. It's very hard to find a job also."

Employment prospects

Zakira's organizers hope that the project has helped give young Palestinians a skill that will boost their employment prospects.

Palestinian refugees in Lebanon are banned from entering certain professions and — despite a change in the law which reduced the number of excluded jobs from 70 to 20 in 2005 — most still find it very hard to make a living. Fees for work permits are high and jobs in Lebanon's low-wage economy scarce, so many refugees fall back on self-employment, trading goods and services within the camps.

By offering more vocationally oriented photography workshops in the future, Abu Shakra hopes that the next phase of the project will provide some of the keenest participants with more professional opportunities.

"Hopefully these children can develop not just a hobby, but a skill that would allow them to work as a journalist, have a studio, or take pictures of weddings in the camps," she said.

Although still at school, Farah is already thinking about her future career. "Maybe I'll be a journalist, or if it's too hard I'll be a teacher or something," she said. "My dad just bought a digital camera. I try to use it."

Her mother, Nadia Qassim, also hopes the experience will give her daughter's future a boost. "Maybe it will be a step to something better," she said.

This item comes to you via IRIN, a UN humanitarian news and information service, but may not necessarily reflect the views of the United Nations or its agencies. All IRIN material may be reposted or reprinted free-of-charge; refer to the copyright page for conditions of use. IRIN is a project of the UN Office for the Coordination of Humanitarian Affairs.