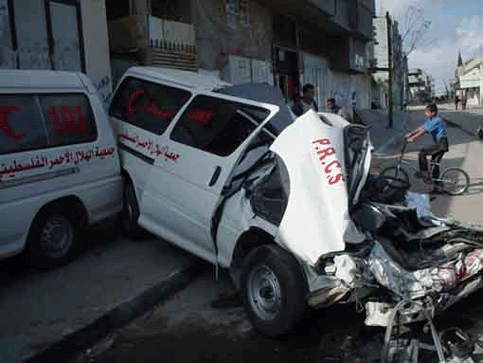 In the most recent incursion into Palestinian territory, Israeli occupying forces killed 5 Palestinian civilians including 2 children and wounded 30 others in Rafah on Saturday, 19 April, 2002. The condition of 10 of the wounded is said to be critical and the number of injured included 7 children.  
During this full-scale incursion into Rafah, Israeli occupying forces dynamited a house owned by a Palestinian family - a member of which is allegedly wanted for suspected activities against Israel. 4 other houses were completely destroyed by bulldozers.  
According to
PCHR
investigations, at around 9.45pm, 19 April 2002, Israeli forces supported by more than 40 vehicles, including tanks, bulldozers and helicopters, launched an incursion into the Rafah refugee camp. Israeli forces moved from their military post on the border with Egypt, into approximately 5km of Palestinian territory, reaching the centre of Rafah. The incursion was accompanied by bombing from tanks and helicopters.  
Israeli occupying forces surrounded the two-story house of Mohammed Ibrahim Abu Shamaleh, which was the home of 4 families (25 people). Israeli occupying forces claim that Mohammed Abu Shamaleh is wanted by authorities for alleged activities against the Israel. Via a megaphone, Israeli forces notified all residents to evacuate the building, without any prior notification. Soon after the residents had evacuated the house, Israeli forces placed dynamite inside the building, completely demolishing the structure, which is located in a densely populated area. Another 10 houses were severely damaged by the blast. At a different location, Israeli bulldozers destroyed 4 other houses, which were home to 43 people, including women and children, who were consequently left without shelter.  
The houses were owned by: Zakiyah Abdul Hamid Abu Hashim; Hashim Abdul Karim Abu Hashim; Ahmed Yousef Ashoor and Moufid Yousef Abu Obaid.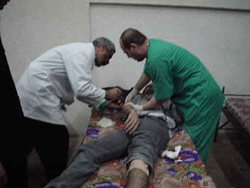 As a result of the indiscriminate attacks by Israeli forces which finally ceased at around 3.30am, 5 Palestinian civilians were killed and another 30 were injured. 2 children were among the 5 dead and 10 of the wounded are in a critical condition. Severe damage was reported to 10 houses and elements of the civilian infrastructure (telephone and electricity lines) were severely damaged.  
The individuals killed were identified as: Mohammed Ibrahim Al Hamaida, 14 (shot in the abdomen); Mahmoud Ahmed Abu Koush, 15 (shot in the abdomen); Saadi Juma'a Abu Hudaid, 26 (shot in the head); Hussain Mahmoud Zanoun, 22 (two bullets: 1 in the abdomen, 1 in the chest); and Saeed Ibrahim Al Masri, 28 (shot in the head).
During the incursion, Israeli occupying forces destroyed 14 civilian vehicles, including a Palestinian Red Crescent Society ambulance. It was reported that Israeli forces surrounded the headquarters of the Red Crescent Society, preventing medical staff from attending to the wounded. 
 
PCHR expresses its deep concern for the continuation of Israeli actions that result in the killing of civilians and destruction of civilian property, during attacks aimed at suspected Palestinian activists.
PCHR condemns the ongoing and systematic acts of aggression perpetrated against the Palestinian people and calls upon the international community to intervene immediately to prevent a continuation of these crimes.
Furthermore, PCHR calls upon the High Contracting Parties to the 4th Geneva Convention of 1949 to fulfill their responsibilities and take action to stop these grave breaches of international law in the Occupied Palestinian Territories.
Related Links: