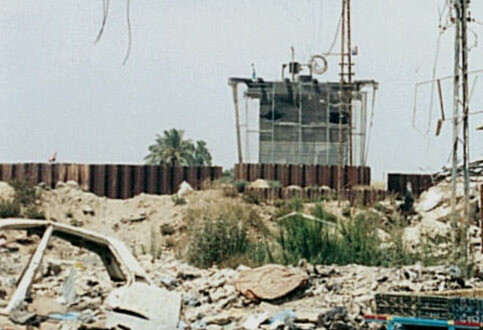 For the fourth consecutive day, Israeli occupying forces (
IOF
) have expanded their military offensive in Rafah town and refugee camp in the southern Gaza Strip.  Overnight,
IOF
entered As-Salam and Brazil areas near the border with Egypt.  At time of press, eight Palestinians, including a child, have been killed so far today.  This brings the number of people killed in Rafah since Monday 17 May 2004 to 39.
 According to PCHR's preliminary investigations, at around 22:30 on Wednesday 19 May, IOF, including helicopter gunships, tanks and other armoured vehicles, moved into the As-Salam and Brazil areas of Rafah located adjacent to the border with Egypt.  IOF began to search Palestinian homes in these areas.  Eye-witnesses reported that IOF opened fire indiscriminately in these densely-populated residential areas, including from helicopter gunships and tanks.  During this operation, two Palestinian homes were destroyed.  One of the homes belongs to the family of Ayman al-Akhras who was killed while conducting an attack against Israeli targets earlier during this Intifada.  The second home belongs to Nafez Azzam, a well-known leader of the Islamic Jihad movement. 
 At approximately 01:00 this morning, Thursday 20 May, 2004, an IOF helicopter gunship fired a missile at two Palestinian civilians gathered near their homes in As-Salam neighbourhood.  According to information obtained by PCHR, the remains of the bodies were collected by neighbours and taken to the hospital by approximately 05:00.  Information available indicates that the two were unarmed.  The two victims were identified as Mahmoud Najib Al-Akhras, 18 and Wael Mohammed Abu Jazar, 18.
At approximately 01:30, an IOF helicopter gunship fired a missile at members of the Palestinian resistance who had gathered in the street in the Brazil area. Three were killed immediately and two were injured.  Those killed were identified as Mahmoud Fateh Deib, 22; Yousef Mahmoud al-Mugari, 21; Hamed Yassin Bahloul, 18.
Witnesses reported that Palestinian ambulances were fired upon by IOF as they attempted to reach the two wounded.  Palestinian medical crews were able to evacuate the two after one hour. 
Local residents fleeing As-Salam and Brazil neighbourhoods reported to PCHR fieldworkers that the IOF were demolishing Palestinian homes in these two areas without prior warning to residents.  Those trying to flee their homes in these areas were forced to evacuate under IOF gunfire and shelling from IOF tanks.   Tamer Younis al-Arja, 3, was reported to have died from a heart-attack as his family were evacuating their home.  PCHR's fieldworkers currently have no direct access to As-Salam and Brazil neighbourhoods due to intense IOF gunfire and shelling and, therefore, are unable to provide further details on IOF demolition operations in these neighbourhoods.
At approximately 10:30, IOF began to demolish the house of Ziad Hassan.  Hassan and his family attempted to evacuate the building carrying a white flag and asking the IOF to allow them time to leave the building.  IOF gave Hassan permission to leave but as the family left the entrance to the house, IOF opened fire from a tank towards the family, injuring his wife and three children.  A Palestinian ambulance attempted to reach the area to evacuate the family but was reportedly surrounded by IOF tanks and bulldozers.  IOF bulldozers then reportedly began to lift sand and rubble on to the top of and around the ambulance with the medical crew trapped inside.  After approximately four hours, IOF bulldozers began to remove the rubble from the vehicle and allowed the crew to leave the area with the severely damaged ambulance but without having evacuated the Hassan family.
At approximately 11:00 today, IOF snipers positioned on the roof of a Palestinian home in Tel As-Sultan area of Rafah town, opened fire at Jamal Awad al-Assar, 39, while he was standing on the balcony of his home calling to his neighbours to ask for drinking water.  Al-Assar was shot in the head and died immediately. 
PCHR's fieldworker has also reported that a Palestinian civilian, Mohammed Ibrahim Jaber, 27, was killed this morning by indiscriminate IOF gunfire as he was standing near the entrance to his home in the western part of Rafah refugee camp.  Four other Palestinian civilians are reported to have been injured in different areas of Rafah today by indiscriminate IOF gun and tank fire.
PCHR again repeats its dismay at this continuing escalation in violations of international human rights and humanitarian law, including war crimes, perpetrated by the IOF in Palestinian civilian residential areas.  PCHR calls urgently on the international community, particularly the High Contracting Parties to the Fourth Geneva Convention, to take immediate action to ensure the protection of the Palestinian civilian population in Rafah and the rest of the OPTs.
Related Links