As the Israeli military launched a major military assault on Lebanon and the ongoing siege of the Gaza Strip Radio Tadamon! visited the Palestinian refugee camps of Beirut. Voices featured in this episode of Radio Tadamon! draw parallels between the escalating military attacks on Lebanon and the ongoing Israeli occupation of the West Bank and Gaza Strip.
Over 300 civilians have lost their lives in the Israeli assault on Lebanon which has targeted the national infrastructure of the country including all major highways and bridges throughout the south of the country. While in the Gaza Strip it has been estimated by the Palestinian Human Rights Protection Center [PCHR] that over 70 Palestinian has died and more than 230 have been wounded during the recent Israeli military incursion.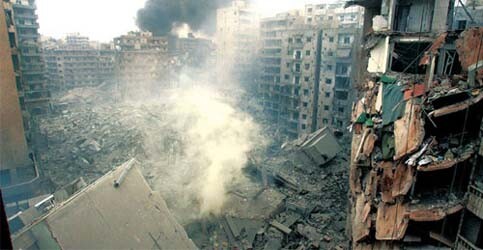 Israeli troops entered Southern Lebanon and besieged Beirut after members of Hezbollah captured two soldiers from Northern Israel. While in the Gaza Strip Palestinian resistance factions continue to hold an Israeli soldier, while maintaining the demand that Israel release all women
&
children prisoners incarcerated in Israeli jails. In Lebanon Hezbollah is calling for the release of Lebanese prisoners from Israeli jails in return for the captured soldiers.
This episode of Radio Tadamon! was produced by Mohammed Shublaq, Dima Ayoub, Jackson Allers & Stefan Christoff of the Tadamon! collective in Beirut Lebanon.
Voices featured in this episode are from the refugee camps of Mar-Elias, Burj el-Barajneh and Chatila, in and around Beirut. Featuring the voices of:
* NOHAD HAMMAD: coordinator of Al-Najdeh Association a Palestinian women's NGO that works in & around the refugee camps
* MARIAM BAIDOUN: volunteer with Al-Najdeh Association.
* SOUHEIL el-NATOUR: spokes-person for the DFLP [Democratic Front for the Liberation of Palestine] and coordinator of the Palestinian Human Rights Protection Center.
* SHADI FADDA: founder of 'Today in Palestine' news service.
Click HERE to Download / Listen to Radio Tadamon! from EI.
Radio Tadamon! is produced for broadcast on:
CJTR Radio in Regina Saskatchewan
CIRO Radio in Kelowna B.C.
CKXU Radio in Lethbridge Alberta
CJSF Radio at Simon Fraser University in Vancouver B.C.
CJMP Jump Radio in Powell River B.C.
CHMA Radio in Sackville New Brunswick
CJLY Kootenay Coop Radio in Nelson B.C.
CFBU Radio at Brock University in St. Catharines Ontario
FREQ Campus Radio in Oshawa Ontario
CJSW Radio in Calgary Alberta
CILU Radio in Thunder Bay Ontario
CFCR Radio in Saskatoon Saskatchewan
CJSR Radio in Edmonton Alberta
CKLN Radio in Toronto Ontario
CFRO Coop Radio in Vancouver
CFRU Radio in Guelph Ontario
CHUO Radio at the University of Ottawa Ontario
CKUT Radio in Montreal
Related Links
BY

TOPIC

: Israel attacks Lebanon (12 July 2006)
Radio Tadamon! is produced by Tadmaon! a Lebanon solidarity group based in Montreal.