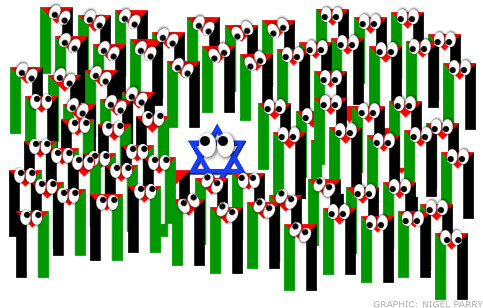 Speaking at the third annual Herzliya conference, Israeli Finance Minister Benjamin Netanyahu told his audience: "It is not the Palestinians who pose a demographic threat, since one day they will benefit from self-determination, but the Israeli-Arab population. The most important thing is maintaining the Jewish majority in the country and improving the economy to encourage more Jews from the Diaspora to immigrate." If the Palestinians in Israel "reach 35 to 40 percent of the Israeli population, Israel will become a state with two nationalities," he said. Palestinians currently represent more than 20 percent of the total population in Israel.

The Herzliya conference on "the balance of national strength and security of Israel", brings together Israel's decision-making leadership to examine and evaluate the different components that make up Israel's overall strength. The Hebrew name of the conference refers to hosen leumi, a term loosely translated as national strength, but which refers to something much more specific: "national immunity."

The Association for Civil Rights in Israel (ACRI), an Israeli civil rights organisation, protested Netanyahu's remarks. ACRI Director, Rachel Benziman, sent a letter to the minister, in which she strongly protested his reference to a fifth of Israel's citizens as no more than a "demographic problem". ACRI demanded that Palestinian citizens in Israel be recognized as human beings that are entitled to all the rights due to any citizen of the state. "Comments, like those made by the minister today, fan the flames of hatred, racism, and discrimination" that are the daily reality for Palestinians in Israel, and "undermine the basic trust that underpins a democratic society", ACRI said. In the same statement ACRI stated that it could not "overstate the importance of the moral and legal duty of the government to respect all its citizens, to ensure their equal treatment, and to block any attempts to compromise any individual's status."

Earlier this year the UN Committee on Economic, Social and Cultural Rights expressed its concerns about the "continuing difference in treatment between Jews and non-Jews, in particular Arab and Bedouin communities, with regard to their enjoyment of economic, social and cultural rights" and reiterated its concern that the "excessive emphasis upon the State as a 'Jewish State' encourages discrimination and accords a second-class status to its non-Jewish citizens" (1998 concluding observations, para. 10).

This discriminatory attitude is apparent on the ground when one examines the lower standard of living of Palestinians in Israel — the result of higher unemployment rates, restricted access to and participation in trade unions, lack of access to housing, water, electricity, health care and a lower quality education system. Moreover, the indigenous population — Bedouins in particular — continue to be subjected on a regular basis to land confiscations, home demolitions, fines for building "illegally", destruction of agricultural crops, fields and trees, and systematic harassment and persecution by the Green Patrol, in order to force Bedouins to resettle in "townships".

The Israeli daily Ha'aretz reported that Yitzhak Ravid, a senior researcher at Rafael, an Israeli manufacturer of arms proposed that Israel implements a stringent policy of family planning in relation to its Muslim population, claiming that "the delivery rooms in Soroka Hospital in Be'er Sheva have turned into a factory for the production of a backward population."

At the first annual Herzliya conference in 2000, Israeli scholars, academics, demographers and security officials proposed a number of racist solutions to the so-called "demographic threat", including controlling the Arab birth rate, deportation, and other measures to reduce the number of Palestinians living in Israel.

The fact that demography plays an important role in Israeli political thinking was demonstrated in a recent opinion piece by former Knesset speaker Avraham Burg. In an article published in the Israeli daily Yediot Aharonot in August 2003, e wrote:

"Between the Jordan and the Mediterranean there is no longer a clear Jewish majority. And so, fellow citizens, it is not possible to keep the whole thing without paying a price. We cannot keep a Palestinian majority under an Israeli boot and at the same time think ourselves the only democracy in the Middle East. There cannot be democracy without equal rights for all who live here, Arab as well as Jew. We cannot keep the territories and preserve a Jewish majority in the world's only Jewish state — not by means that are humane and moral and Jewish."
In an interview with Christian Science Monitor he told Cameron W. Barr:

"I'll never give up democracy, I'll never give up the Jewish majority. With difficulties and pain, I compromise the land."
These statements are not surprising when one considers that Avraham Burg was a former chairman of the Jewish Agency, the organisation which coordinates the establishment of new settlements for Jews only. The Jewish Agency discriminates between Jews and non-Jews as part of its standard operations providing houses, infrastructure, and facilities for basic services only to Israel's Jewish citizens. Palestinian citizens of Israel are not allowed to move there.
The obsession with demography makes politicians from the so-called "left" and right favour a form of a two-state solution. The political thinking behind it is the realisation that, no matter what happens, in a few years time Palestinians will become the majority population of the country, even without the return of any Palestinian refugees. Israel's policy of transfer, its ongoing settlement drive, and its immigration policies do not affect Palestinian population growth. Therefore, the core issue to be tackled is one of equality. The core of the conflict are not borders and specific measures of land, but whether one is equal in opportunities and rights.
Not surprisingly, Avraham Burg was an active proponant of the Geneva Accord, a document that cancels the right of Palestinian refugees to return. The subjects of such an accord are not considered as equal human beings. Nothing has been said about Israel's "Law of Return", which only applies to Jews.
When Israeli advocates speak of "Israel's existential threat" they speak not of the destruction of Israel but of the end of the "Zionist dream" — an ethnically exclusive Jewish state. Even though Israel has tried to "neutralise" the demographic growth of Palestinians by using excessive institutionalised force against Palestinians, home demolitions, land confiscations, the destruction of livelihoods and the construction of segregation and separation through the Apartheid Wall, it has failed to subjugate Palestinians or cause them to leave their land en masse.
University of Haifa demographer Arnon Sofer — whose 2001 monograph Israel and Demography, 2000-2020 acted as a starting pistol for the current obsession with demography — told Israel Radio that there is already a non-Jewish majority in Israel and the occupied Palestinian territories. The Palestinian birth rate is almost twice as high as the Jewish birth rate. Sofer forecast that, within 17 years, an additional six million people would be added to the estimated current population of 10 million Jews and Palestinians in the country.
In an interview with Yediot Aharonot on December 5, Ehud Olmert, Israel's Industry, Trade, and Labor Ministern argued that the "status quo" was "destroying Zionism," and that Jews would have to make "hard and fateful decisions sooner than later because later could be too late." This is how it transpires that a right wing hawk such as Ehud Olmert can say the same as left wing Avraham Burg. Olmert and Burg are two Israeli politicians who struggle with Zionism itself. Expecting racism to produce stability or oppression to produce peace is a mistake. The continuation of the conflict is a result of the racially exclusive philosophy of Zionism itself.
Israelis — on both the left and right — will have to make a choice. To solve their "Palestinian problem" Israel can opt for four 'solutions':
1. Transfer, or the expulsion of the remaining part of Palestinians, which often has been suggested by right-wing politicians and especially those that try to advocate that "Jordan is Palestine".
2. Apartheid, the policies established in particular after Oslo, creating bantustans, with institutionalised discrimination and segregation of Palestinians, as second-class citizens in Israel and an oppressed population, imprisoned in small circles surrounded by settlements and military outposts.
3. A full and complete Israeli withdrawal from the occupied West Bank and Gaza Strip, with the establishment of a viable and sustainable Palestinian state, ie a two-state solution.
4. Equal rights for all citizens, the formation of one democratic or binational state in all of the land between the river and the sea.
Option 1 has been tried before, in particular in 1948 and later again in 1967, resulting in the largest and one of the longest refugee cases in the world today, with more than 6 million persons, comprising around three-quarters of the Palestinian people and nearly one-third of the global refugee population, without a durable solution to their plight.
Cynical analysts were concerned that Israel would use the war on Iraq to expell Palestinians. In the past, Israel has used such pretexts to deport Palestinians. One might be tempted to hope that, after Kosovo, the international community would intervene if Israel were to expel large numbers of Palestinians.
In April 1999, Ariel Sharon (at that time Israel's foreign minister) caused a sensation by saying that "Israel should not legitimise Nato's aggression, led by the United States … Israel could be the next victim of the sort of action now going on in Kosovo… Imagine what would happen if one fine day the Arabs declared autonomy for the Galilee and links with the Palestinian Authority" (Yediot Aharonot, 2 April 1999).
Two days later, Israeli journalist Gideon Levy, writing in Ha'aretz wrote: "The Kosovo tragedy has already taken place and it could happen again here." He recalled the expulsion of Palestinians in 1948.

"They were just like the Kosovo refugees. There was not much difference between the ethnic cleansing there [in Palestine] in those days and that in Kosovo today and the results are identical: 419 villages were seized and most of them razed to the ground. Hundreds of thousands of people have been living in refugee camps ever since. It was our Kosovo. Only the

TV

cameras were missing."
Option 2 was established with the signing of the Oslo agreements, which resulted in increasing restrictions on movement, the strangulation of Palestinians' livelihoods, impoverishment, and blocking access to humanitarian aid, food and water, medical supplies, hospitals, work and education — culminating with the construction of Israel's Apartheid Wall on confiscated land, possible only with massive uprooting of agricultural orchards and the demolition of hundreds of Palestinian homes.
The chances for option 3 have almost vanished. A true viable and sustainable independent state has been made impossible through the increased number of settlements, the construction of the Apartheid Wall, the increasing number of demolished homes, uprooted trees, destruction of livelihoods and the chances that this option is still possible decreases by the day.
Israel is left with a choice between option 2 and option 4: Apartheid or democracy, oppression or freedom, discrimination or equality, disrespect or respect.
Whether the situation deteriorates further or not, whether initiatives such as Geneva or Ayalon flourish or not, the chances are diminishing as the clock ticks onward. It's time to make a choice.
Related Links
BY

TOPIC

: Geneva Accord
Arjan El Fassed, based in the Netherlands, is a co-founder of the Electronic Intifada.