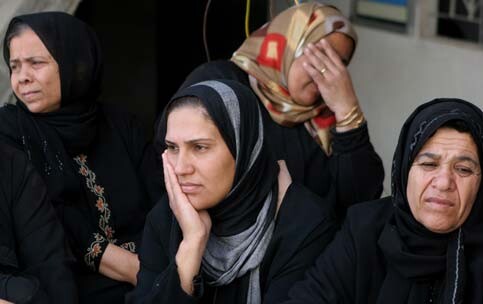 NEW
YORK
- The
UN
Security Council held an emergency meeting on Thursday at the request of Qatar - the lone Arab representation on the council - regarding the killing of 18 Palestinians on Wednesday by the Israeli Defense Forces (
IDF
).
At dawn on Wednesday, the IDF fired between 12 and 15 shells at an apartment block in Beit Hanoun, in the northern Gaza Strip, killing 18 people while they slept, mostly women and children. A further 55 people were injured.
Council members held closed consultations on a draft resolution circulated by Qatar on Wednesday before holding an open meeting with 45 speakers that included a briefing by Angela Kane, UN Assistant Secretary-General for Political Affairs.
"While this incident is unusual in scale, however it is not the first time that an Israeli military operation in the occupied Palestinian territory has resulted in a high number of civilian casualties," Kane told council members.
UNRWA (United Nations Relief and Works Agency for Palestine Refugees in the Near East) Commissioner-General Karen AbuZayd also condemned the attacks in Beit Hanoun, noting that the one extended family, all UNRWA refugees, lost 17 members. She had visited Beit Hanoun immediately after wards. The "tragedy is yet more evidence, if any were needed, of the necessity to end this futile and provocative cycle of violence," she said in a statement.
In her briefing to the council, Kane said the UN welcomed Israel's investigation into the deaths. She also called on Palestinian militants to halt all rocket attacks and devote their energies into bringing about a national unity government.
Israeli Charge d'Affaires, Daniel Carmon, called the 18 deaths a "regrettable incident," and told council members they had died as victims of Hamas terrorism. "If Palestinian terror did not continue to assault Israelis, if Qassam rockets stopped sailing out of Gaza into Israel, the incident in Beit Hanoun would never have happened," he said.
In the past week, 82 Palestinians have been killed and 260 Palestinians injured during operations in Gaza, while 35 Qassam rockets from Palestinian militants exploded, where four people were injured, according to Assistant-Secretary General Kane.
Those still living in Beit Hanoun have been left without electricity and water. UN agencies and the International Committee of the Red Cross (ICRC) have provided food, water, powdered milk, fuel and hygiene kits on three occasions when the IDF has lifted the curfew briefly to allow humanitarian access, according to Kane. She said two volunteerss from the Palestinian Red Crescent Society had died after being fired on by the IDF while performing emergency medical duties.
The extensive damage to infrastructure throughout the Beit Hanoun area included serious damage to the 850 year-old Um al-Nasser mosque in the center of the town, according to UNRWA.
Those who addressed the council expressed exasperation at the lack of Security Council action. The council should "assume its responsibilities for the maintenance of international peace and security and the protection of civilians", said Qatari Deputy Ambassador Jamal Nasser al-Bader.
The Qatari draft resolution calls for an immediate cease-fire, and that Israel abide by its obligations under the Geneva Conventions. The draft also calls for a UN observer force to monitor the cease-fire, when agreed upon by both sides.
Other council diplomats said the draft did not mention Qassam rocket attacks by Palestinian militants, nor call for the release of the Israeli soldier held by Hamas militants since 25 June.
French Ambassador Jean-Marc de la Sabliere called for an urgent meeting of the Quartet - composed of the US, UN, Russia and the European Union - "to re-launch perspectives for peace," he said. "There is no alternative to the creation of a Palestinian state, viable, democratic, and sovereign, co-existing in peace and security with Israel."
This item comes to you via IRIN, a UN humanitarian news and information service, but may not necessarily reflect the views of the United Nations or its agencies. All IRIN material may be reposted or reprinted free-of-charge; refer to the copyright page for conditions of use. IRIN is a project of the UN Office for the Coordination of Humanitarian Affairs.
Related Links